After a long break and sojourn in England, popular former kid singer, Tosin Jegede returned to the country to launch an NGO named Tosin Jegede Foundation.
She spoke with P.M.NEWSEntertainment about her pet project, 1Child 1book' her sojourn in the UK, her music and other issues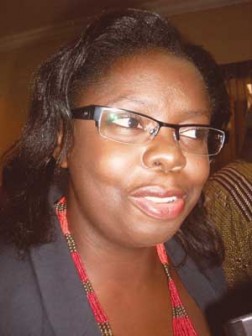 Tosin how are you?
I'm fine.
Where have you been to?
I took some time off to grow. If you can recollect, I became a celebrity at a tender age, so I decided to get to know myself and now I'm back as an adult.
Where have been all these years?
I went to England, studying and working, I attended the University of West England in Bristow.
What's the experience like?
It was lovely. When I was going out of the country I had the desire to improve on the life of the underprivileged and that is what I'm currently working on, that is, to make them happy especially the kids. You know, as a kid then, I had already become a super star playing for the likes of the late Maryam Babangida and my experience during my performance in the rural areas during the Better Life for Rural Women programme gave me an insight into what the kids of the underprivileged people are going through.
So you decided to go for greener pasture, make money and come back home to invest?  
No, I am a dual citizen.
How will you compare the experience of being a young girl with now that you are an adult?
It was fantastic then because as a young girl, I had the privilege of having the wife of the Ambassador of France, that of Germany, wife of the then president, governors attending my album launch side by side government functionaries in Nigeria. It was a great privilege. I played for the then South African President Nelson Mandela, when he came out of prison, and during OAU Summit. It was exciting for me. Now as an adult, when I look back, I believe I was so fortunate to have such experience in life, at the same time I believe now as an adult that I can actually do more.
So what are you doing now, music?
Not music but I am running a non –governmental organisation, and we are working on how to improve the education of an average Nigerian child by distributing education materials that will add more value to their lives. So we are giving books to students of public schools in Lagos State now and later we will extend it to other parts of the country. The materials we are giving will encourage them and improve their reading culture from primary school, so by the time they go to the secondary school they will be better persons.
How many public schools are you working on now?
As many as we can, because based on our findings we discovered that those that really need the educational materials are the students of public schools. I want to also include private schools in underprivileged areas.
How do you get funds for the programme?
We have been getting funds through friends, families and friends on the facebook. Right now we want to try as much as we can to involve more publishers.
Where did you get the experience to run this kind of NGOs?
I have a volunteer group of about 30 people, an advisory committee and others.
What were the challenges you had as a kid singer?
Well, I will say I did not have a normal childhood in the sense that though I could play on our street then because it was a close, I could not walk on the streets like a normal child, because at a tender age I was a super star, I had had the opportunity of meeting presidents and other important personalities. Now that I am an adult, it is a different ball game entirely.
It was rumoured that you were dead sometime ago, how do you feel reading your own obituary in the newspapers?
I was shocked, because a family friend called my dad to know whether I was alive then or not and my dad confirmed that I was alive and in school. In fact, that experience was very devastating.
Music brought you to limelight and you are now running an NGO on education, have you abandoned music?
No, I have not, because music was a way for me to express myself, because I was able to have an input into songs people wrote for me because then I was not writing all my songs, and when I was rehearsing with the band, I always told them what I wanted and that brought out the creativity in me. For now, music is secondary but I m still in it.
Are you going into the studios soon?
I will eventually but not now, I will still do some things with the old albums soon.
So, you made money from music and abandoned it for something else?
That's not true. I got paid N200 for performing for Nelson Mandela (laughter) while my school fees was N2000 at that time. I did not make money but enjoyed only the glamour. I and my group were paid N200. It's not funny.
How did you go into music?
My dad had a gospel band and I started rehearsing with the band when I was a baby. I was told that when my dad was performing at a function, then I was two year old, I went to meet him on the stage, he gave me a microphone and I was singing with him, at the University of Lagos, and the second time was when I went with my dad to SOS village. I was told that I sought my dad's permission to sing for them and he obliged. The rest is history.
Adult Tosin, when are you getting married?
One day (laughter).
Do you have a suitor or suitors now?
Suitor, I m into a relationship now, that is only what I can tell you for now (laughter).

Load more