There were mixed reactions on the Project Fame stage last Saturday as two contestants, Joshua and Grace, were shown the exit door. It was also a day that a home viewer, Ella, was given a rare privilege to join the competition, having emerged the best singer through the 'Wild Card' audition exercise.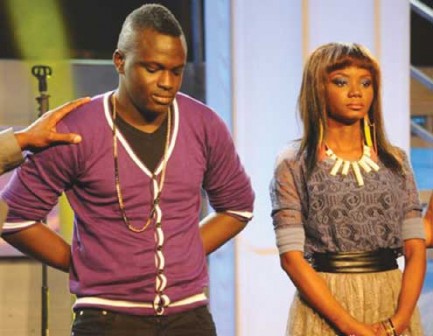 The show began on a beautiful note with the two wild card entries Henry and Ella who had the highest votes performing. Henry started off with Michael Bolton's 'How Am I Supposed To Live Without You' and Ella did Beyonce's 'I Was Here'. After their performances, it was time for the judges to pick the better contestant. Although TY Mix was absent, Cobhams Asuquo was in as the guest judge and they unanimously chose Ella ahead of Henry after thorough consideration. And so for the first time in Project Fame history, Ella became the first contestant to join the others in the Academy mid-stream.
When it was time for the eviction show, Yeside Oredugba of Alexander Forbes was invited. She stepped out with the envelope containing the names of the five contestants with the least votes. Chinyere, Joshua, Adetoun, Grace and Didi sadly landed on probation block and had to repeat the songs they performed the previous weekend.
After their performances, the Judges saved Chinyere for "bringing the extra factor into her performance." Faculty saved Adetoun whom they felt had been on top of her game. Didi escaped elimination with the votes of the contestants not on probation.
With Joshua and Grace left out as contestants not saved by any one, they both performed for the last time on the stage. Grace performed Yvonne Chakachaka's 'UMQOMBOTHI' and Joshua rounded off beautifully singing 'AHUKEWU' by V.I.P.
When asked how they felt about their elimination, Grace, who could not control her emotions, appreciated the Faculty and everyone who voted for her to come this far. Joshua also appreciated the Judges and Faculty and counted it as an honour to have been on the stage and for making it to Nigeria.
The following day (Sunday) was a night of high expectations where the contestants wowed everyone with hits from African legends. —Bayo Adetu
By Bayo Adetu

Load more