Nwandugo Chukwura, Ebonyi Commissioner for Works tells FUNSHO BALOGUN that the state government is spreading its development projects across the three senatorial zones
Why are there no new road projects in Abakaliki, considering that some of the roads are already in a state of disrepair?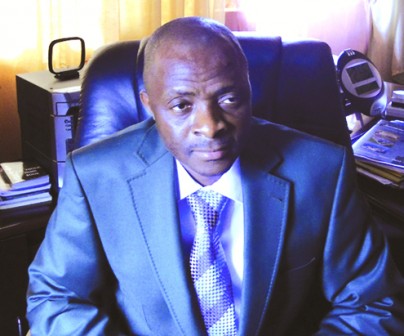 Your observation is accurate. But we have just commenced work on some streets, such as Afigbo Street which we started to repair. Actually, the governor noticed that a lot of roads in the rural areas are impassable. The priority was to bring our agricultural proceeds from the villages into the towns, because Ebonyi State is predominantly a farming state. But to bring  products into the towns and markets was a problem because there were no roads and bridges. Before this administration came to power, we had just about seven bridges. And Ebonyi State is surrounded by river. That river made movement a challenge. So the first thing we did was to construct those unity bridges, 34 in number and spreading all through the whole of Ebonyi State. Then as we are doing the bridges, we are also doing the roads. The important thing is to go to the hinterlands, make them happy first and make sure that they are part of government and that they benefit from the dividends of democracy. The essence is just not to develop the towns and leave the villages. We went to the hinterland first to do the roads. We have done about 500 kilometres of roads, together with the bridges. Some of the bridges are 10-span bridges, some are 8-span bridges and some are 6-span bridges. From one pillar to another pillar is called a span. And the biggest among is the one at Idembia, which is a 10-span bridge.
Can we have an idea of the cost of the bridges?
The Idembia bridge costs over N2 billion. Some cost N1 billion, some fall within the range of N400 to N800 million.
The roads we have done are also very many. And some of those federal roads include the Abakaliki-Oferekpe, which is about 42km altogether, with about six bridges on it. And we are also doing the dualisation of the Abakaliki–Enugu road or Abakaliki–Ogoja road. They are all federal roads.
The Abakaliki–Afikpo, which we are dualising now, is also a federal road. We have spent about N11bn to N12bn just on the federal roads only. We are still fully expectant of reimbursement from the federal government. Because out of the much that we have requested for they have only reimbursed us with the sum of N1bn. We are still expecting about N10-N11bn for the work already executed on the federal roads.
What is the length of the roads altogether?
One is 39km, another is 12km while there is also one of 7km.
What about the current rice mill controversy in the state?
What we have decided to do about the rice mill issue is that due to the environmental hazard the rice mill is posing to the state capital, through the rice dust, which is not very friendly to anybody's health, we needed to go for the very best rice mill in the world from Japan. The experts are here, to do the design. And the type we are putting in place is such that it can produce five tonnes of rice per hour. Our desire is that Ebonyi State in a very short time to come, should be exporting rice out of this country. So, we built the rice mill in the three senatorial zones. But you know the roads in those areas need to be repaired. That is where the Ministry of Works in fully involved. Right now, the machinery for the rice mill is being installed. The machinery is now in the state, and is being installed from point to them.
Don't you think those new, larger mills will render the equipment used in the Abakaliki rice mill obsolete?
No, they will pack from here and relocate to those giant mills. As a matter of fact, we made provisions for what we call clusters in each of those rice mills, such that you can still carry your equipment or mill from there to go and mount in those areas of clusters. You may still be doing your small milling there. Because somebody may bring just two bags of rice. You cannot take two bags of rice to go and put in that giant rice mill. It would swallow it. It won't even come out. So, they can transfer their machines gradually from here to that place and continue their business. We are going to provide access roads, security, light and water. All we are trying to do is to make everything we are doing more decent and more organised to ensure bigger productivity. That is what the state government intends to achieve.
How do you source for enough rice to feed these giant mills you are putting on ground?
It is not going to be a problem. As we are putting the mills in place, we are also thinking of the farming challenge. It should boost our intention to go into a larger scale of farming. It will attract bigger investors who want to go into mechanised farming in the state. They will be assured that with those mills available in those areas, when they produce the rice, they can process it. We also have neighbouring states that are into farming. Benue, Cross River and Enugu states all surround Ebonyi. These rice mills will attract them, making this state a hub for rice production and processing.
The Ochudo city or Secretariat Complex is a massive project. Considering the huge bond secured to execute the project, how do you hope to pay back?
The idea is that the people need a befitting working environment. It must not be to generate money. And don't forget that it is from the ministries that you administer the entire state. So, if there is anything the state is doing to generate money, it is from the offices. All the IGR (Internally Generated Revenue) and administrative work of the state will be done there. It does not have to be a commercial area. The clerk that is in one place, receiving mails, is working. And the mails will be transformed to money in one way or another. So, it is not a waste. When the condition of where you are working is improved, you work longer.
The projects being executed, with all the construction works, should have a trickle-down effect on the people. But there are complaints that the people in this town or even the entire state are enjoying no benefits. Why is this so?
Cement is not produced here for instance. We are still working on getting a cement factory established. In fact there is a cement development department under the Governor's Office. We have a commissioner for cement production here in the state. So, investors, together with the state, are working on that. Maybe before the end of this administration, we will establish a cement factory. We will not say because there is no cement factory, work must not be done. Also, for iron, we don't make it here. We still get iron from either Onitsha, from Lagos or Ajaokuta.
-Published on TheNEWS Africa

Load more