Serena Williams has won her fourth US Open title, literally waking up from the dead to edge out Belarussian Victoria Azarenka, the number one seed.
The American fourth seed had clinched the first set 6-2, in about 30 minutes. In the second set, her game totally collapsed, under the pressure of a resurgent Azarenka, who broke her first game and raced to also clinch the set at 6-2.
In the final set, Serena, still playing wobbly, with many unforced errors, with service games twice broken by Victoria, found herself losing the coveted title, that she wanted to make her 15th Grand slam, with Victoria serving for the championship at 5-4. Drama unfolded, with Victoria conceding the game and Serena leveling up at 5-5.
Serena, now virtually resuscitated won her next game and broke Victoria's next service game to clinch the final set at 7-5.
The victory gave her the 15th Grand Slam title and fourth career US Open crown.
"I honestly can't believe I won," Williams said. "I was preparing my runner-up speech. I'm so shocked. It's remarkable."
In the first three-set final at the US Open since 1995, American fourth seed Williams joined her sister Venus and Steffi Graf as the only women to win Wimbledon, the Olympics and the US Open in the same year.
Williams was down a break twice in the third set but battled back to win after two hours and 18 minutes, winning when Azarenka swatted a backhand long and then laying down on her back and putting her hands over her face.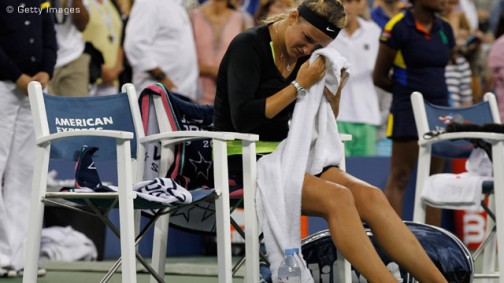 Williams, who turns 31 on September 26, became the second-oldest US Open women's champion in the Open era. Australian Margaret Court was one month past her 31st birthday when she won the 1973 title.
Not since Martina Navratilova in 1987 had a woman won the US Open title past her 30th birthday.
Taking home a top prize of $1.9 million, Williams won her 45th career title after finishing second to Australia's Samantha Stosur in 2011 following a year of health problems that included blood clots on her lungs.
Williams won prior US Open titles in 1999, 2002 and 2008 and added Grand Slam crowns at the 2002 French Open, the 2003, 2005, 2007, 2009 and 2010 Australian Opens and Wimbledon in 2002, 2003, 2009, 2010 and 2012.
But no women's top seed has won a US Open title since Justine Henin in 2007 and none has won a Grand Slam title since Serena Williams in 2010 at Wimbledon.
"Serena deserves to win. She showed how true a champion she is," Azarenka said. "I definitely gave it all today. Stepping off this court I will have no regrets."
The 13-year gap between Williams winning her first Slam title at age 17 at the US Open and now marks the longest span between first and most recent titles in US Open history and for any Grand Slam in the Open era that began in 1968.
No US Open women's final had gone to a third set since Steffi Graf went the distance to defeat Monica Seles 7-6 (8/6), 0-6, 6-3 some 17 years ago.
Williams stretched her match-win streak against World No. 1 players to five in a row, last losing to a rankings leader in 2007 when Justine Henin beat her, and 15 for her career, three shy of Navratilova's all-time record.
It was the fourth time Williams defeated a World No. 1 in a Grand Slam final after Martina Hingis in the 1999 US Open, Venus Williams in 2002 Wimbledon and Lindsay Davenport in the 2005 Australian Open.
The match statistics:
(x denotes seeding):
Victoria Azarenka (BLR x1) v Serena Williams (USA x4)
—————————————————–
Aces: 0 13
Double faults: 4 5
First serves in: 65 of 101 = 64 % 43 of 80 = 54 %
1st serve points won: 36 of 65 = 55% 33 of 43 = 77 %
2nd serve points won: 19 of 36 = 53 % 15 of 37 = 41 %
Fastest serve: 107 MPH 125 MPH
Average 1st serve speed: 98 MPH 110 MPH
Average 2nd serve speed: 85 MPH 89 MPH
Net points won: 12 of 17 = 71% 9 of 13 = 69 %
Break points won: 4 of 8 = 50% 5 of 14 = 36 %
Receiving points won: 32 of 85 = 38 % 46 of 105 = 44%
Winners: 13 44
Unforced errors: 28 45
Total points won: 87 94

Load more