In demonstration of his tacit support for the new Lagos traffic law, the Inspector General of Police, Muhammed Abubakar has ordered the Lagos State Commissioner of Police, Umar Manko  and his men to begin massive arrest of okada riders (commercial motorcycle operators) who violate the law.
He said the crackdown should begin after one week of grace for the riders to comply.
Abubakar gave this order on Monday at the launch of 114 patrol vehicles for Lagos police by Governor Babatunde Fashola in Lagos, Southwest Nigeria.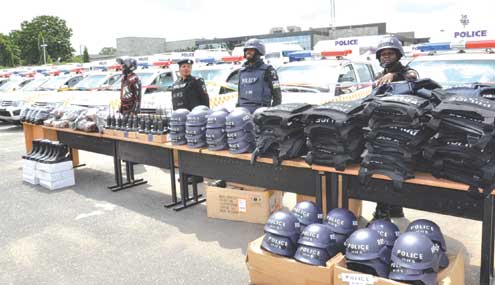 He lamented that he was pissed off to see okada riders in Lekki area flagrantly disobeying traffic laws, saying  "and I asked, where are the police?"
"Commissioner of police, take note, okada riders are also citizens of the state and they must obey the law. Okada riders should respect the law. Without respecting the law, you cannot drive on that road."
Abubakar ordered Manko to issue the okada riders one week ultimatum to comply with the laws of the state, saying the CP should meet with the okada unions immediately to intimate them of the new move and that after one week, "I want to see a large number of okada riders arrested and taken to court."
The police boss also said he was displeased with the robbery incident in Lagos on Sunday, saying that it was clear the Lagos Police Command was slumbering and that the police in Lagos should wake up from their slumber.
"I want to sound a note of warning to all officers in the state police command that it is no more a tea party. You are greatly challenged now and you must wake up from your slumber. There is no doubt that some of you are sleeping.
"The story of Sunday should not repeat itself again. We cannot fold our arms and allow criminals to terrorise citizens of this state. It will longer be tolerated anymore. On Sunday, I came in and I knew what happened.
"I have directed the AIG and the commissioner of police in Lagos to sit down and strategise. They must put more strategy on ground and methodology of fighting crimes. We cannot fold our arms anymore when the governor has given us everything that we need in terms of mobility, in terms of technology, in terms of support and allow the people of Lagos to be terrorised by common charlatan criminals. It cannot be tolerated anymore," he stated.
On road block, Abubakar said it had gone forever but clarified that "the issue is that police presence must be felt at all nooks and crannies. That does not mean that the police men should be off road. That is why vehicles are being provided for you."
He added that the vehicles donated must not be used for any other thing except for patrol and surveillance of the environment to stem the tide of criminal activities in all the nooks and crannies of the state.
Speaking, Fashola reiterated that the vehicles were intended solely for patrols within the local governments of the state, adding that "we will continue to complement the peripherals and state patrols at our level. It is not vehicles alone that we are handing over, we are also handing over 40 motorbikes donated to us by Coscharis Group. I thank them. I want to use this platform to call on other organisations to emulate the example.
"We have seen the threats posed to security by bike thieves. These 40 motorcycles will help complement our fleet to track down criminals even in the busiest of traffic situations. We are handing over a mobile ambulance to provide relief when there are casualties to our officers and residents.
"As we perform this handing over ceremony, let me acknowledge that our work in securing this state has been challenged and our responsibility has been heightened. We were attacked in broad day light on Sunday, I know the men and officers must feel bad because they were constrained by the need to reduce civilian casualties but let me say that we have walked this road before and we have succeeded .Those who threaten us should be ready to run faster than us; they must be ready to spend better than us and they must be ready to work harder than us because we will win."
The governor added: "Let me also challenge our officers to do whatever they can, not only to protect the state but to find those men who dared to attack us. It is only when they have found them and bring them to justice that their colleagues would not have died in vain. From the chief of police to the CP, to the DCOs and DPCs, this is your task. Our success in reducing crime has brought on many more challenges. Many more people are relocating to our state as a place of preferred destination. For security reasons, your services are really challenged and I understand this."
—Kazeem Ugbodaga & Dedeigbo Ayodeji

Load more