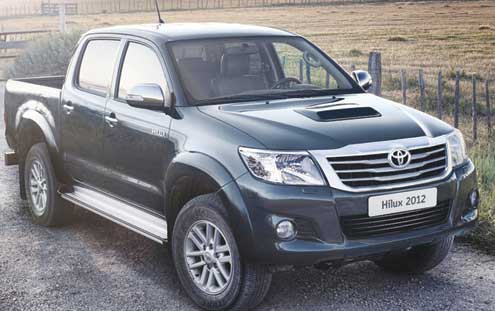 Makers of spirited cars constantly strive to find the optimum balance between comfortable drive and dynamic handling while pickup-makers these days face the challenge of building capable workhorses that are also comfortable and safe – something which Toyota has achieved with remarkable success with its Hilux.
The more car-like cabin and ride tendencies in pickups are already clearly noticeable in the new Isuzu, Mazda BT-50, Mitsubishi Triton, Nissan Navara and Ford Ranger with the VW Amarok even further down the road. Now the Hilux line-up has joined the fray and it is every bit as good – and even better – than some major players.
In brief, the Hilux is extremely competitive in all the key evaluation departments that count towards achieving a good balance between ride comforts, clamber and carry, price and very importantly, it is also the first local pick-up which can brag with a 5 Star EuroNCAP safety rating.
Toyota are very proud parents of the Hilux and claim they achieved everything they set out to do with this pickup which was, inter alia , to create a truck (to use the favoured American term) that is green, safe, handsome, comfortable, frugal, highly capable of hauling big loads and good value for money.
To show how serious Toyota is about shouldering its way to the forefront of this huge market segment even the entry-level model feels like a car inside and as the price increases so do the many fancies.
In terms of looks, ride, power, comfort and general appeal the new Hilux will change hearts and minds in a big way – and many a nightmare for the opposition, particularly if you factor in Toyota's service plan which is standard across the range.
By Daniels Ekugo

Load more