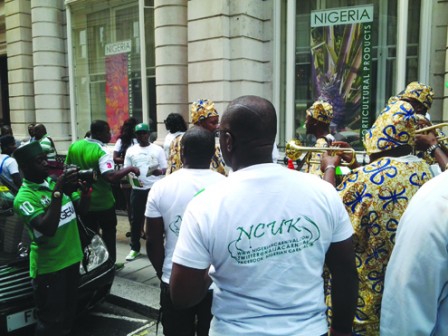 The streets of London was abuzz on 6 September as many proud Nigerians in their green and white customes and flags, moved round in a grand tour in an open double-decker bus to kick off this year's edition of the Nigerian Carnival in the United Kingdom, NCUK, holding later in October.
The six-hour grand tour which took off at the famous Elephant and Castle at 11a.m, and terminated at the Woolwich Arsenal, saw the big red buses, loaded with Nigerian celebrities, snaking round the British capital, with a stop at the Nigerian High Commission. The parade showcased Nigeria's unique and varied culture and tradition with appreciative Londoners waving back in support.
Kashif Jones-Laguda, founder, NCUK, said the parade was designed to create awareness for the carnival that will hold on Saturday 20 October at the Kennington Park in London. "Our aim is to dispel negative stereotypes surrounding Nigerian culture. While displaying entertainment from Nigeria, the carnival will also serve as an educational forum where most children born here can learn different Nigerian languages, have access to historical materials through exhibitions and spaces for traditional Nigerian games," Jones-Laguda told Showbiz Trends after the parade.
He added that it will also serves as a vehicle to encourage tourists to Nigeria through promoting Nigeria's rich and diverse cultural heritage.
The carnival  is expected to be the biggest and best African outdoor event in the UK, as it will be used to celebrate Nigeria's independence as well as Black History month in the UK.