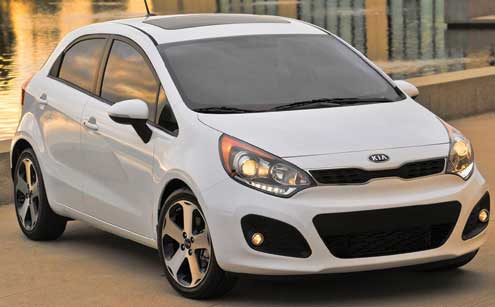 Korean car maker Kia is cleverly wriggling deeper into the hearts and wallets of the Nigerian motoring public with model after model of stylish, family-friendly, light on the pocket and wall-to-wall high-tech vehicles.
A good example of the type of weapons in its marketing onslaught is the unwrapping of the sedan version of its hugely popular Rio Hatch. The Rio Hatch has been selling at the speed of lightning and Dana Motors reckons the sedan version will add more units to that figure. The new Rio sedan is an all-out attack on the B segment of the market with Kia clearly determined to rattle the cages of well-established brands such as the Toyota Yaris, VW Polo and Ford Fiesta.
With its air of sporty youthfulness and neat, clean lines, it is already right up there (and even ahead) of most of the front runners in this tightly contested race. It's longer, lower and wider than previous models which not only improves its looks quite dramatically but also adds a lot more space for passenger comfort and luggage. And the car's aerodynamics is now so efficient that it has a drag figure of just Cd 0.31, which also makes it more fuel and emissions frugal.
Viewed head on, the new Rio brags with the brand's striking new corporate grille integrated with the front lamps. The Kia logo now also sits more prominently above the grille. In profile the car has a pleasant wedge shape and the coupe-like roofline actually makes it look longer than it is.
It is a car that really looks better on tar than it does on paper and it certainly stands out in this segment.
Although Kia is targeting young families with this Rio, the car has the kind of twinkle appeal that will also appeal to a wider audience, from trendy singles all the way to the bowls-and-bridge brigade.
Kia has become a popular, fast-growing brand world-wide and Nigeria is no exception, looking at how well models such as the Cerato, Sportage and Picanto (which finished a strong second in the most recent Nigeria Car Awards title race) are selling over here.
The company says market research predicts that demand for B-segment cars is going to grow significantly over the next two years as more consumers shift to more economical, more fuel-efficient cars – downsizing to offset the continuous rise in fuel prices. Clearly, Kia is pinning its hopes on the new Rio sedan to help it stake a strong claim for a share of the action in this market segment.
By Daniels Ekugo

Load more