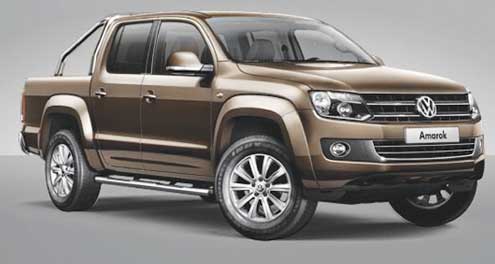 It usually takes ages (and sometimes it never happens) for car manufacturers to actually listen to complaints from the public and attach enough weight to criticism by motoring journalists to actually do something about it; but not so for Volkswagen which recently made a few important improvements on their popular Amarok double cab to rectify real or percieved flaws.
VW has tweaked the engine mapping and stepped up the turbos' boost pressures to raise the output from 120kW to 132kW. The main mutters were about the Amarok's 120kW engine, which felt a bit sleepy and its sensitive clutch, both of which led to some embarrassment when the going became a bit rough.
Bearing in mind that much was made of the carrying capabilities of the Amarok when it was introduced to the local market, public expectations might also have been a bit too high.
Interestingly enough, the Amarok's 120Kw/400Nm engine is not at all out of step when compared to Isuzu (maximum 120kW/350Nm), Mazda BT-50 (maximum 115kW/380Nm), Mitsubishi Triton (maximum 118kW and 343Nm), Nissan Navara (maximum 198kW/550Nm), Ford Ranger (maximum 147kW/470 Nm) and especially South Africa's most popular bakkie, the Toyota Hilux (maximum 120kW/343 Nm).
The white coats also made some key adjustments to the clutch travel and set-up to eliminate the Amarok's tendency to stall.
The ABS system can reduce braking distance both off-road and on gravel road surfaces, often significantly depending on the road composition. When "Off-Road Mode" is activated while the pickup is driven at less than 30km/h, Hill Descent Assist is also activated. This holds driving speed constant on steep descents. For the first time in this class, when Hill Descent Assist is activated, the driver can individually adapt the vehicle's speed to a particular driving situation by accelerating or braking. The Amarok Double Cab range is available in two equipment lines, Trendline and Highline all which standard features such as height adjustable front seats, foldable rear bench seat, lockable glove box and load bed lighting, a lockable tailgate, electric windows, doors an side-mirrors, a four-speaker audio system, climate control, cruise-control, 16-inch alloys and front fog lights.
By Daniels Ekugo

Load more