Popular Nollywood actress, Ngozi Nwosu is critically ill and urgently needs to be flown abroad for treatment to be on her feet again.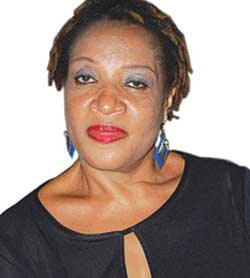 The actress, who is currently bedridden in her Lagos home is said to have been diagnosed with a kidney related ailment, and there are plans to fly her out of the country for surgery.
P.M.NEWS gathered that her colleagues, led by ace film director, Biodun Aleja, are currently trying to raise the necessary funds needed for Ngozi's treatment, and a save-our-soul (SOS) message will soon be sent to members of the public who will be required to send their donations to a bank account that will be opened for the actress' medical bill.  When our reporter called Aleja on phone this morning, he confirmed that the actress is currently bedridden following a kidney related ailment and that there are efforts by him and some colleagues of the actress to make sure she gets back on her feet.
"We gave her some money yesterday to offset the tests she is doing, and we will very likely take her to India very soon. That is why we are trying to raise funds for her. By the time she is done with the tests, we will be sure of the exact ailment, but I think it is kidney leakage or so," Aleja told P.M.NEWS this morning.
Our reporter was also privy to a text message being sent by another actor, Emma Oguguah to colleagues of the ailing actress soliciting for help. The message reads; "Please let's not turn this to plenty talk, if you can help financially, please help by paying what you can to GTB account number 0052851673 Ngozi. M. Nwosu. Thanks."
Ngozi Nwosu, who is one of the lead characters in Amaka Igwe's Fuji House of Commotion comedy series, has really lost weight and her skin looks pale.
Earlier in the year when Ngozi's shrunken skin was noticed by her fans, it was rumoured that she was suffering from leukaemia. She was also rumoured to have contracted HIV, but she denied it all.
In an interview, she claimed that "I lost weight because I wasn't comfortable with it any longer. I lost weight because, as an actress, I didn't want to be playing a particular role. I no longer wanted the motherly role I was always acting. I wanted to see myself from another angle.
"I lost weight, especially for my health. I feel good. I feel better. When I wear the kind of clothes I love, I don't feel stupid. I love wearing hugging clothes. Now I wear them and I see I'm okay in them. So, it is now a crime to lose weight? Just because I lost weight, I now have HIV/AIDS and leukaemia?"
The Imo State-born role interpreter has starred in a number of Nollywood flicks and soaps, some of which include Greatest Weapon, Thunderbolt, Fake Doctor, A Cry For Help, Dark Secret, Dr. Thomas, True Or False, Daddy Must Obey, Fork Up, Vineyard, Harbinger, Ikuku, Night and Day, No Shaking, Open Secret, Private Sin, Slave Master and Living In Bondage.
She also played the role of Madam V Boot in the now rested Ripples TV serial. The most popular among them is Fuji House of Commotion, where she played the role of a mischievous polygamous wife.
—Bayo Adetu

Load more