Singer Davina Patience Ochema started her journey into music by playing in night clubs, especially at weekends. It was on one of such occasions that she was spotted by a good Nigerian, who felt her talent would be better appreciated outside a night club. That brought the petite lady into limelight in 2005 when she performed at the Star Mega Jamz. She narrated her story in this interview with P.M.NEWS Entertainment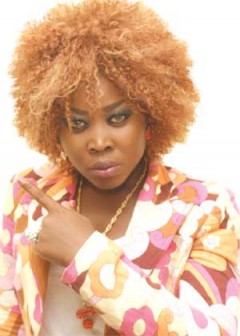 What was your growing up like?
I'm from Kogi State. I am from a military background. My dad was a soldier. He's retired now. We moved from one state to another on transfer, almost on yearly basis. Whenever they promoted my dad, we moved to another house, and that was quite an experience while I was growing up. I also learnt how to cope with movement as a teenager. The music industry is not strenuous for me, as regards going from one show to another. Initially, my parents were not in support of my music adventure but they succumbed due to my stubbornness, perseverance and my persistence. Now, they support what I do.
It was rumoured that you were dating former Nigerian Breweries(NB) Plc boss, Festus Odumegwu. How did you feel when the news was all over the place?
(Laughs)  A lot of people accused me of that for years. The truth was that it was devastating if I am not dating someone and you say I am dating the person. The truth is that we never dated but he is my very good friend. The reason is that when he was in NB Plc, he saw the talent in me and he was not even directly involved with me. He did not know when I travelled for Star Mega Jamz or when I returned but people just assumed and because I refused to admit to their assumption they decided to use it against me, insisting that I was lying. A lot of people were just discouraged, 'why is she lying' and I am saying it for the umpteenth time that we are not dating and we never dated. I thank God he is doing well after his retirement from NB Plc. Five years after he left NB Plc, I have never seen or spoken to him until a few months ago when we saw at Que Lounge on the Island.
How did the rumour affect your relationship? 
I was devastated at that time because I was still young. Any man will be jealous especially when they say you are dating such big man. When they say you are dating such a man your little man will feel jealous and of course, he felt very jealous. But my boyfriend saw through my personality and he stayed.
We understand you're working on a new album?
Right now, I am working on an eight-track album. I am working with a friend who is also a song writer. His name is Baale and he is a good writer. He has a lot of guys working with him and I will also pull in Phat E and a few of my guys who have been working with me. We are going to have some danceable jams, remix.
Why is it hard for female singers to make hit songs like their male counterparts?
A lot of people have asked me this question and I keep saying that this is a mystery that we the female are yet to unravel. We've asked ourselves same question, is it that we are not good enough or what? At least, we now have the likes of Tiwa Savage, Omawunmi and a handful of the ladies, all doing well but not as good as the guys. The problem is still a mystery, maybe, because we don't have enough support from the male. The men should support us. Maybe we should start begging the men. We know we have problems of looking good, buying clothes, we are too expensive to maintain and that's the truth. The female musicians are too beauty conscious, by the time you buy Brazilian hair, shoes that are in vogue, clothes and other accessories your budget would have gone down.
You mean some of your colleagues lose focus midway?
It's not that we lose focus, it's like the record label owners are not ready for women's stress. I want to quote one of the record owners. I was having a conversation with Don Jazzy of Mavin Records a few weeks ago and he asked: "Can the women cope at shows?" You know how the back stages are during shows; area boys, all sorts of drinking, drugs and other things that go on there. And in that terrain, can we cope? He brought out that point because he is a producer and record label owner. These record owners are concerned that the women are not rugged enough to withstand the stress in the performance ground, before you go on stage; you know it's a battle ground.
But a good product should be able to sell; don't you still think that the problem is from you women?
I was shooting my video, I go make am, with Yomi Amao who shot the Olorioko video and he said, "Davina, you are good, how come everyone does not know yet?" He said there are lots of very good songs that got to his hands but there is no money to fuel the ambition. For radio stations, if you don't pay, nobody is going to play your song, no matter how good you are. So why do these women go to these strong men?  Because they have what it takes to push them out there. Talent is not enough; go to the burial grounds, there are a lot of talented people there that are dead.
What was the attraction from your guy?
I think it is the fact that no matter what I face in the industry, you know the industry is very tough, it leads some ladies to go into drugs, smoking Indian hemp, and so they lose focus and become junkies and in the home front you can't live with them because  of the things they take in order to keep up with the pressure and competition in the industry. What he saw in me is that I am not moved by the difficulty in the industry. It does not lead me to begin to trade with my body or be too desperate or smoke or take drugs and I still keep my decency despite everything.
That means you still insist that some of your female colleagues go on drugs just to cope?
Yes. They do that, some of the female do because the pressure is much on them. Of course, they take stimulants, it could be cigarette, Igbo or cocaine whatever works for them is what they take. They go to that extent just to cope. God didn't build us to cope with such stress and to cope in the world of men you must behave like a man.
            —Daniels Ekugo

Load more