President Goodluck Jonathan on Saturday urged the PDP National Chairman, Alhaji Bamanga Tukur, to support and mentor political leaders to bring out the best in them.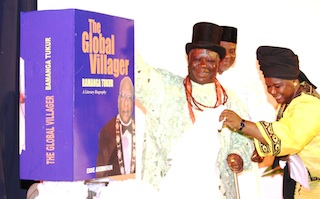 He made the call in Abuja at a book launch to mark Tukur's 77th birthday.The book, titled, " The Global Villager'', a biography of Tukur, was written by Chief Eddie Aderinokun, a veteran journalist, himself 71 year old in July.
"In this world, you have an opportunity to support and mentor the leaders of this country as one whom the leaders can see as a father. Although you are already standing as one of the most accomplished Nigerians of our time, you are called upon again as chairman of the ruling party to guide political office holders to serve this country in the interest of all,'' Jonathan said.
He commended Tukur for his role in promoting African unity and Pan-African business through the African Business Roundtable and for ensuring the stability of Nigeria in 1994 when it was in a political crisis.
The president also praised the author of the book, stressing that it was a great service to the country to produce a detailed account of Tukur for others to learn from.
Jonathan described Tukur as " a man with fantastic spirit, who symbolises the never-say-die spirit of Nigeria and the trade mark of perseverance in the midst of challenges and obstacles.
"We appreciate you, Mr Chairman, we thank God for your life and we thank your family for staying by you,'' he said.
Earlier, Tukur said the occasion was not only significant but very memorable judgment from the UN human development indices, which pegged life expectancy in Sub-Sahara Africa at 52 years.
" I am, therefore, very grateful to my creator and to all for honouring me by your presence. I give today's glory to Allah for keeping all of us alive to witness today,'' Tukur said.
He said the book was an encapsulation of his life as a village boy through national limelight to the global audience.
Tukur expressed gratitude to his family, teachers, friends and associates, who stood by him through the years and for their contributions in shaping his life.
He also thanked them for developing his thoughts on the society, nation and the environment and promised to continue to share his experiences with all to give back what the society had given him. He prayed Allah to guide the country's political leaders to effectively utilise its endowment for the basic needs of the people.
Tukur assured Nigerians that the philosophy of the PDP's ongoing transformation agenda was in the interest of good governance and the people of Nigeria.
Governor Theodore Orji of Abia, on behalf of other PDP governors, picked 10 copies of the book for an undisclosed amount, while Chief Arthur Eze, the chief launcher, launched it with N10 million.
Other governors who attended the occasion were those of Kaduna and Bauchi States, while Plateau and Katsina states were represented by their deputies.
The FCT Minister, Senator Bala Mohammed, who represented other members of the Federal Executive Council, said that their loyalty to Tukur amounted to loyalty to the Presidency

Load more