After what he had achieved for Nigeria in boxing, both as an amateur and professional pugilist, Olusegun Ajose is feeling bad that his fatherland could abandoned him at a time he needed all necessary support to take a shot at a world boxing title.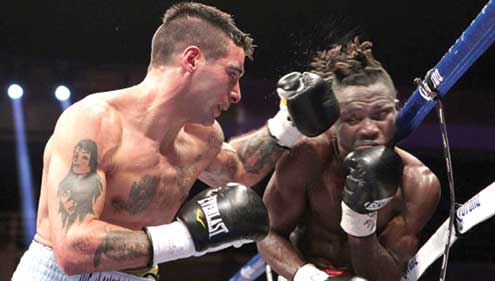 At 33, Ajose has the marquee fight he has desperately yearned for, but his slickness could not bring him a win against bomber Argentinian boxer, Lucas Matthysse, who knocked him out  in the 10th round of their World Boxing Council, WBC, world title elimination bout at the Hard Rock in Las Vegas in US on 8 September.
Ajose (30-1, 14KOs) told P.M.News at the Nigeria Army Sports Centre, Myoung Barracks, Somolu, Lagos, where he came to see the athletes of Adopt-A-Talent Sports Programme at their holiday camp at the weekend, that he found it hard to believe that Mattysse could force him to kiss the canvas in a crucial bout on that fateful night.
"My preparation for the fight was nothing to write home about. It's unfortunate for me to come from a country where people are not valued. With what I achieved for this country at the All Africa Games —winning gold medal— African and Commonwealth title, British title and 2000 Olympic Games, it is disheartening that I could not get enough support to prepare for the fight against Matthysse.
"I was supposed to travel to America a month to the fight, and secure the service of some sparring partners who fight like Mattysse. All this cost a lot of money which I did not have. Unlike me, Mattyssee got all the support from his government. I learnt that the Argentinian government sponsored his technical crew for the fight and some other things. I was abandoned by my government; I had to manage with what I could lay my hands on. You know what it takes to prepare for a world title fight. I would have won the fight if I had prepared very well. Technically, I was better than Mattysse, but on that night, Mattysse prepared well for me and he got me knocked out, ending my dream to get a shot at the world title for now," Ajose lamented.
—Taiwo Adelu

Load more