An abandoned 17-storey building where criminals rape, kill victims and share their loot, has been uncovered  in Oto-Awori Local Council Development Area, Lagos, Southwest Nigeria.
The uncompleted building, P.M.NEWS reliably gathered, has been a notorious hideout for criminals in the area.  Residents said that criminals usually share their loot inside the uncompleted building.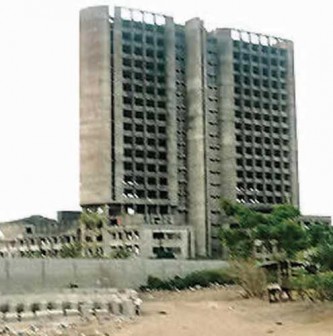 Recently, a security man attached to the LCDA identified as Moshood Afolabi, was found dead in the 17- storey  building after he was declared missing by the family.
His disappearance was said to have been reported to the local vigilance group by his family after four days  of searching for him when he did not return from his usual night watch.
Afolabi's body was subsequently found in the building in Oto-Awori LCDA after four days of fruitless efforts  by members of his family to locate his whereabouts.
According to his wife, Raimot Afolabi, "I went to report to Baba Saka who is the leader of the vigilance  group my husband worked with that he had not returned home for two days from his duty post.
"He was surprised when I told him what happened and raised an alarm. He ordered his boys to carry out a  thorough search. His corpse was found in that 17-storey building. That monstrous building was responsible for  my husband's death," said the mother of four.
Saka, the leader of the vigilance group, said when Afolabi's wife reported that her husband had not returned  from work, he organised a search party within the neighbourhood and on the second day, he received a call  from someone  that a body was found in the building.
"We quickly rushed to see if the body was that of a known person. When we got there, we recognised the body  to be that of Moshood. We then deposited his remains in a mortuary for further investigation," he said.
A community leader in the area, Alhaji Uthman Sekoni said  that a lot of criminal activities had been  happening in the building with boys of shady character seen coming out or going into the place.
"That was where members of Odu'a Peoples Congress, OPC, arrested people they suspected to be criminals. An  officer that was attached to the community police was found dead in that same building.
"Just last week, a girl was thrown down naked after being raped by some heartless people. That place has been  a hideout for criminals who terrorise our community. They go in there to share the loot stolen from us.
"We have also been hearing gun shots from the place. It is amazing that security agents have not cared to  raid the place and clean it up. It is a haven for armed robbers and ritualists," he said.
When P.M.NEWS visited the palace of Chief Alase of Era Land for comment Tuesday, he was not available but a  palace source who did not want his name mentioned told our correspondent that the building belongs to the  Federal Government and that it has been abandoned for over 20 years.
He said the building is associated with all forms of criminal activities and called on the government to do  something urgently about it.
"That building belongs to the Federal Government. It has been abandoned there for over 20 years now. I cannot  say categorically what they wanted to use it for but that was how I met it when I got here some years back.  The site was acquired by the Federal Government but some part of it has been sold to people lately."
He appealed to police authorities to help them curb crimes that have be giving them sleepless nights by  creating more police stations because the only station there,  Ilogbo police post, cannot cope with crime  control in the community.
The Ijanikin Police Station Divisional Police Officer, DPO, was not available but a top police officer said  they are doing all within their capacity to curb crime in the area.
He said since a policeman was killed in the building, they have been posting 10 policemen each day to guard  the place in order to forestall similar occurrence.
"There have not been reported case of rape in that place lately but I can assure you that we are doing our  best to maintain peace and order. What I know that is the policeman that was killed was not from our station  here. He worked elsewhere in the area.
"I urge you media men to plead with the Federal Government that if they are not using that place again they  should hand it over to the state government to do something meaningful with it.
"If that place is properly utilised, we won't be talking about this kind of thing here now. If that place is  renovated and given out to policemen, they would at least have somewhere to lay their heads after the day's  work. We have a lot of them that come all the way from Ikorodu to work here and return home."
By Jamiu Yisa

Load more