For how long will the impatient Nigerian football fans continue to endure the 'schoolboy' howlers that have  now become the trademark of Super Eagles first-choice goal tender, Vincent Enyeama?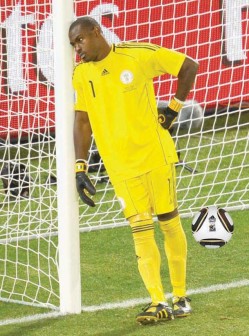 This is the question on the lips of football pundits in the country over Enyeama's recent poor form. The  controversial goalie, who was considered a surplus by Lille OSC of France, is currently on loan at Maccabi  Tel Aviv of Israel.
Enyeama started his international career on a bright note about a decade ago, when Coach Adegboye  Onigbinde selected him for the Korea/Japan 2002 World Cup as a cover for Ike Shorunmu. He played one match in  that tournament, keeping a clean sheet against England, and has since taken over the spot after Shorunmu's  retirement.
Since then he has been the first-choice goalkeeper for the Eagles, playing in the African Cup of Nations in  2004 and 2006. In the 2010 African Cup of Nations, Enyeama also had a good tournament with Nigeria in the  2006. He stopped three penalties in the quarter-final against Tunisia, but could not prevent a loss to Cote  d'Ivoire in the semi-final.
However, Enyeama's problem began in March last year when he led John Mikel Obi and Victor Anichebe in a  revolt against former Eagles' coach, Samson Siasia, over the size of plane that was to convey the team to  Madagascar, for an Afican Cup of Nations qualifying game.
Though Mikel and Anichebe were pardoned, the former Enyimba of Aba goalkeeper was excluded from the team of  players that engaged Guinea in the last group game of the qualifiers as the trio of Dele Aiyeanugba, Austin  Ejide and Chigozie Agbim were invited to camp. Guinea, however, denied Nigeria the sole ticket.
Enyeama apologised to the Nigerian team for causing distractions during the squad's preparations ahead of the  Madagascar game, adding that he did not intend to cause disharmony in the team.
However, the former Hapoel Tel Aviv shot stopper seemed to have lost his magic touch since he returned as  Eagles' keeper due to his mistakes while on duty.
Among his many costly errors while on duty for the senior national side included his last minute mistake  which made the Flames of Malawi to grab an equaliser against the Super Eagles in the 2014 FIFA World Cup  qualifier in June.
Enyeama had a simple job to do to push away a floating ball in the area, after hollering at his defenders to  leave the ball for him. But he went for the ball with only one hand and fumbled, leaving the Malawians with a  heaven-sent opportunity to earn a point on the day.
Only this month, the former Iwuanyanwu Nationale goalkeeper also conceded cheap goals in Eagles' 2-2 draw  against the Lone Star of Liberia in a 2013 Africa Nations Cup qualifier in Moronvia, Liberia.
Enyeama, who has played for the national team since 2002, failed to rise to the occasion in the match and  faltered towards the latter stage of the match just as he did in Eagles' match against Malawi in the 2014  World Cup qualifiers not too long ago.
Meanwhile, many soccer tacticians in the country have leapt to his defence, appealing to teeming Nigerian  football fans to exercise a little patience with the goalkeeper.
Former Eagles' coach, Adegboye Onigbinde, said that it was wrong to point fingers at the goalkeeper, claiming  that it was inappropriate to blame a single player for an error that was committed by the whole team.
"I think it is wrong to put the blame solely on Enyeama. Football is a game played by 11 players and one  player should never be blamed for an error that leads to an unsatisfactory result for a team.
"We should also ask ourselves, what were the other ten players doing before the ball got to the keeper? It is  wrong to blame one player for the result in a team game like football," Onigbinde posited.
On his part, Eagles' Assistant Coach and former goalkeeper, Ike Shorunmu, also threw his weight behind  Enyeama by appealing to Nigerians to give the goalkeeper another chance to gain back his form.
But whether ardent Nigerian football fans are ready to exercise more patience with the underfire goal tender  is another issue as the spotlight is already beaming on Warri Wolves goal keeper, Chigozie Agbim.
However, Agbim, in a recent interview said that he is "not competing" with Enyeama for Nigeria's first-choice  position. Agbim said he has never given a thought to competing with Enyeama for the number one jersey in the  Super Eagles.
"It's been a wonderful experience for me so far being part of the senior national team. I'm in the team to  improve myself and take my opportunity when it comes. I'm not competing with Vincent Enyeama. He's very  experienced and I'm willing to learn from him because he has been a source of help to me. I just want to  improve myself.
"Only the coaches have the right to pick who is best for every game. If I am picked for any game I will  gladly give my best. Also, I've been learning a lot from the coaches and my goalkeeping teammates too," said  Agbim.
—Bimbo Ajayi

Load more