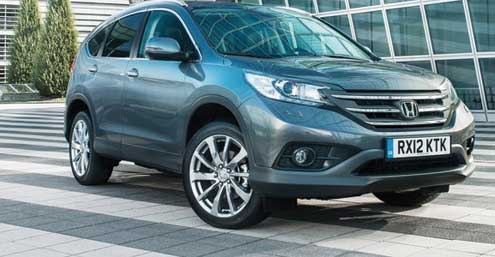 The 4th generation Honda CR-V again received a thunderous applause penultimate week when The Honda Place  (THP), authorized marketers of Honda automobiles, took the wrap off the appraised model during a gala night  at the Abuja Sheraton Hotels.
The remodeled crossover had in June 2012 at a previous launch at the Ocean View Restaurant Lagos reawakened  the enthusiasm of automobile enthusiasts that witnessed the unveiling ceremony. Coming 16 years after it was  introduced, the CR-V has continued to enjoy customer loyalty and increasing sales year-on-year due to its  uniqueness, ample passenger room, cargo capacity and competitive pricing.  A successful global brand, the  CR-V has in these years of tremendous achievements elicited more than a dozen different competitive models  from rival automakers making their way into the mid-sized SUV category.
Mr. Arvind Sharma, branch manager, The Honda Place, Abuja who gave this insight in his presentation,  described the new CR-V as sedanlike ride with stunning economical four-cylinder engine spectrum with  remarkable handling.
"While some models offer V6 engines, Honda CR-V has remained focused on its practical aspirations and true- to-form design, becoming the best choice available in the all-important compact, small-SUV segment," Sharma  noted.
Honda has also improved on the CR-V's fuel management system, improving from 21/28mpg city/highway to  23/31mpg and the all-wheel-drive models from 21/27mpg to 22/30mpg. Safety however remains a strong selling  point for the CR-V. With top five-star government safety ratings, the CR-V ranks best among safety-conscious  cars in its class. Honda has undoubtedly traversed several hurdles in its six-and-half decade of automobile  engineering, becoming an icon with a lineup that runs the gamut.
By Daniel Ekugo

Load more