Thousands of Arik Air passengers were stranded today nationwide at Nigerian airports as aviation workers  grounded Nigeria's largest airline over N18 billion unpaid debts to aviation agencies.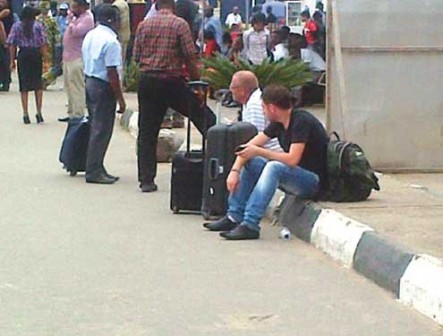 The stranded passengers sat helplessly at the General Aviation Terminal in Lagos, southwest Nigeria, as  planes remained grounded and unable to take off.
The protest by three unions was being held with loud speakers, placards dancing and booing.
The unions; the Air Transport Service Senior Staff Association, ATSSSAN, the National Association of Aircraft  Pilots and Engineers, NAAPE and the National Union of Air Transport Employees, NUATE, are staff of the  Federal Airports Authority of Nigeria, FAAN, the Nigerian Civil Aviation Authority, NCAA, and the National  Airspace Management Agency, NAMA.
ATSSSAN Deputy General, Mr. Olayinka Abioye, said the protest was to "send a clear message to the Federal  Government that because this is our farmland, we do not want the industry to collapse."
He queried: "How can a single airline be owing aviation agencies a colossal sum of N18 billion without the  Federal Government doing anything about it?
"Letters have been written severally, meetings have been called severally, none has been honoured by Arik  management."
As he spoke, other aviation workers cheered him up, saying "No retreat, no surrender."
Abioye further said: "Aviation workers have decided, and we are very resolute, that until the N18 billion  that Arik is owing all the agencies under the Federal Ministry of Aviation is paid, no flight of Arik will  take off in any airport in Nigeria.
"Let Arik continue in its blackmail. This morning when Arik and the Commissioner of Police had a meeting with  us, they said, there is an injunction with FAAN and that the matter has to go to court in October. But what  has the injunction with FAAN to do with the money that you owe?
"The debts must be paid for the aviation industry to thrive. The sustainability of the industry is our number  one priority. Because it is only when the aviation industry survives and thrives than anyone of us can claim  that we have jobs here.
"So, you allow one charlatan who stole the Nigerian people's money through another  deceiful means and brings  the money to the aviation industry to come and set up an airline, and also wants to cheat us, we say a  capital NO.
"Arik just said they have suspended its operations until further notice. We too are going to ground their  operations until further notice.
"This is fifty fifty. No retreat. No surrender."
The Ministry of Aviation on Thursday dismissed allegations by Arik that it is witch-hunting it, saying Arik Air must live up to its responsibility.
The Special Assistant to the Minister of Aviation, Mr. Joe Obi, said Arik's allegations are "absolutely false"
It said it is a means of blackmail.
"Arik should be advised to live up to its responsibility as a good corporate citizen and accordingly discharge its obligations to its clients.
"The airline should face reality and stop chasing shadows and bandying spurious allegations about as a means of blackmail," Obi said.
Obi said the Aviation Ministry will not be blackmailed "into taking decisions that are not in the interest of the Nigerian public and the aviation sector."
Meanwhile, The Murtala Muhammed Airport 2, where Nigeria's second largest airline, Aero Contractors, operates, was filled to capacity on Thursday as Arik Air, the country's largest airline, was grounded by a union protest.
Aero Contractors was over booked with passengers standing in long queues for hours and staff struggling to cope with the influx of weary air travellers.
"I hope I get a seat. I had wanted to travel with Arik Air. But they are not flying today. I am going back to Abuja and I don't have a choice," a passenger told P.M.NEWS on Thursday without disclosing her identity.
Dr. Harold Demuren, Director General of the Nigeria Civil Aviation Authority, NCAA, was quoted by the Agence France Presse, AFP, as saying the dispute between Arik Air and striking union workers bordered on landing charges.
He said he would try to intervene for a peaceful resolution of the dispute.
Arik Air operates about a hundred flights a day, Chris Ndulue, its Managing Director, disclosed today, adding that it will lose a lot of money due as its flights remain grounded.
Aero Contractors' Managing Director, Captain Akin George, said today that his airline operates about 50 flights a day.
With Arik Air, Air Nigeria and Dana Air not flying, Aero is the only major Nigerian airline in the skies at the moment.
Meanwhile, the Senate Committee on Aviation has recommended that the airline, owned by Port Harcourt-based  businessman, Dr. Michael Arumemi-Ikhide, should operate as a national carrier until the Aviation Ministry  sets up a new one for Nigeria.
Arik Air, Dana Air, Air Nigeria, Aero Contractors and others are already flag carriers, but none of them is a  national flag carrier.
According to those with inside knowledge, a national flag carrier is partly or fully owned by the government  and enjoys rights, privileges and supports not enjoyed by others.
Media reports said last week that Arik Air intends to become a public quoted company soon, a move analysts  say is in a preparation for their new status.
Nigeria, Africa's most populous country and second richest economy has been without a national carrier since  the demise of Nigeria Airways in 2003.
Nigeria Airways' multi-billion naira facilities were sold to Arik Air for less than a billion naira,  triggering outrage and protests.
Nigeria Airways, which was founded in 1958 and owned about 30 aircraft in the 1980s, collapsed in 2003 as  corruption brought the airline to its knees.
But aviation analysts warn that it will be Nigeria's biggest scam if Arik Air became national carrier.
"My warning is that if Arik Air falls into this temptation, their case will be worse than the defunct Nigeria  Airways. I want it on record," said Deba Uwadiae, an aviation writer, analyst, publisher and consultant, who  reacted from Columbus, Ohio, USA.
"In the present day of free enterprise, we should rather encourage flag carriers than having a national  carrier. What do they mean by recommending Arik Air to be a national flag carrier?
"Are they saying the tax payers' funds should be used to rescue the airline with government taking over its  management?
"Who are those behind this? Is the airline promoting this? Do they want it and what will be their status in  terms of operations when it is now a national carrier?" Uwadiae, who has been observing the Nigerian aviation  industry for 18 years, queried.
According to Captain Dele Ore, veteran Nigerian pilot and president, Aviation Round Table, a pressure group  in the aviation industry, "the truth of the matter is that the concept of the National Carrier status will be  an exercise in futility without considering the limiting factor that affects their performance presently as  flag carrier.
"Those factors will be haunting the organisation not withstanding any status of national carrier conferred  upon it."
Arik Air is said to owe AMCON and aviation agencies billions of naira and often struggles with staff wages  and leased aircraft.
With the committee's decision, Arik Air's debt will be transferred to Nigeria's taxpayers, the analysts said.
Experts in the aviation sector have labelled it "a trick to settle the boys and pass the debts to the  country".
They have called on the Federal Government to set up a national carrier from scratch, using its own  resources, instead of buying over debts and other liabilities.
If this recommendation is adopted by the National Assembly, Arik Air will enjoy preferential rights or  privileges, accorded by the government.
"They want Arik Air to swallow other airlines. They want them to dominate the sector, have access to free  spare parts and credit facilities to buy more aircraft, expand to more routes, using government money and  kill all other airlines," a source in the industry alleged.
The airline company will also be required to display the flag of Nigeria in all its aircrafts.
The Chairman of the Senate Committee on Aviation, Hope Uzodinma, while presenting the report of the  committee's findings regarding the arbitrary fees charged by British Airways and Virgin Atlantic airways,  said Arik airline should be allowed to fly the nation's flag pending when a new national carrier would be  approved by the Minister of Aviation.
"What we are saying is that for now let's allow Arik to fly our flag around the world while the ministry of  aviation is working out modalities of securing a new national carrier," Mr Uzodinma said.
The committee in its recommendations also addressed issues relating to compliance or non-compliance with  relevant aviation laws and all unwholesome activities by foreign airlines, and the role played by regulatory  agencies which undermine the growth of the aviation industry in Nigeria.
The Senate President, David Mark, while reacting to the recommendations, requested the committee to produce a  "compressed version of the recommendations," as according to him, the one presented was too bulky for members  for deliberations.
According Gboyega Adeoye, an aviation analyst, the liquidation of Nigeria Airways by Obasanjo was skewed to  corner its glory by the political hawks.
"They sold it at a paltry sum of less than a billion naira to themselves (Arik), bought more than needed  brand new planes to cover their loot, conjure laws to choke other operators (age of craft) in preparation to  dominate the sector. And here we are. The action is ungodly, mean and callous. We are being insulted."
Simon Tumba, another aviation analyst, said: "Personally, I do not support the concept of national carrier  and it cannot work. At a time when the world is embracing free enterprise, why are we going backward?
"Show me any Nigerian public enterprise that has worked? It will never work and this one will fail."
—Simon Ateba

Load more