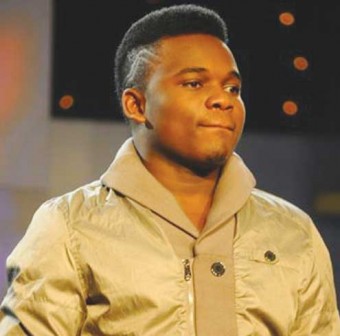 Saturday's eviction show at the on-going MTN Project Fame West Africa (season 5) began with a medley of Whitney Houston's songs. It was a tribute night for the great woman of songs who passed on earlier in the year. Shortly after this, Adetoun, Didi, Christian, Ella and Oyinkansade were announced as the contestants on probation, having scored the least votes from viewers.
After the breathtaking performances, the judges saved Adetoun, faculty freed Oyinkansade while Christian got the  majority of votes from the other three contestants not on probation, leaving Didi and Ella as the eliminated contestants.
While giving their final speech, Didi appreciated everyone especially the faculty and judges and of course those who have encouraged him with votes and prayers. Ella, who had a short stay, appreciated the faculty, and the judges for believing in her. On that note, Didi performed for the last time on stage for the evening. She did Return of The Mark by Mark Morrison.
Next up was Ella who was to perform Love on Top by Beyonce. She was about to begin the performance when the judges pulled a surprise and chose to exercise their power of recall. They decided to recall Ella back to the Project Fame Academy.
Ella could hardly believe her fate. She ran to the judges box and appreciated them with a hug and thanked them for giving her the second chance.
With the seven remaining contestants ready to battle their way to the finals, the competition is not only getting tougher, it has continued to gather more momentum.
The following day (Sunday), Musulyn opened the floor with Just A Li'L Bit Longer by Maxi Priest. Next was Christian with a smooth delivery of She Don't Let Nobody by Chaka Demus. Ayo again blew minds with Shaggy's Angel, and the very fortunate Ella came home with Evi Edna Ogoli's Obaro. Oyinkansade did Hold Ya by Gyptian, while Adetoun performed Bob Marley's One Drop. Finally Marvellous, with his guitar sang Holy Spirit by Majek Fashek.
Having been billed to do double performances each for the night, the contestants flagged off the second phase of their performances with Musulyn doing Christina Aguilera's Lady Marmalade, Christian also pulled a nice one with Bobby Brown's Every Li'l Step. Ayo wowed with Rick James'  Give It To Me. Ella performed Love On Top by Beyonce. Oyinkansade did Mac Band's Roses Are Red. Pretty Adetoun stopped at nothing with Katty Perry's Fireworks. Finally for the night, Marvellous again thrilled with Yes by Stevie Wonder.
—Bayo Adetu

Load more