Activities were paralysed in all public schools in Lagos State, Southwest Nigeria, today as teachers began indefinite strike to press home their demand for the implementation of the 27.5 percent salary increase.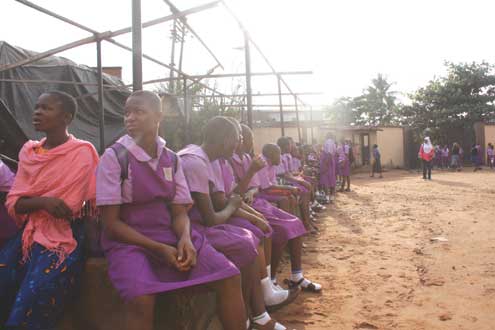 The schools were to resume this morning after the long vacation but the gates of the schools were shut against the students.
Thousands of students who thronged the schools this morning for resumption were disappointed as they were turned back home.
The teachers had warned that they would not resume until the government begins paying the 27.5 percent increaseTeachers' Salary Scale, TSS.
In Alimosho, the strike was effective in over 125 primary and secondary schools in the area as teachers shunned work in compliance with the directive of the Lagos State Branch of the Nigeria Union of Teachers, NUT. At Model College and Community High School, students were sent home. They were seen loitering around the gates of the schools.
Same goes for Government College, Iyana Ipaja, Oke-Odo Junior and Senior High School, Temidire Primary School, Aanu Oluwapo Primary School, among others.
In Agege, students were sent back home from Dairy Primary, Junior and Senior Secondary schools. Other schools in Agege were also shut.
In other parts of the Lagos metropolis, the situation was the same as teachers shunned work and students were sent home from schools. A senior Secondary School 3 student of Oke-Odo Senior High School, Ajibade Olashile told PM NEWS that he was disappointed that teachers had gone on strike as he expected to get back to his studies after the long vacation.
Another student, Ibrahim Tijani said he was not happy that he was sent home from school as public school students would now lag behind their counterparts in private schools.
Chairman, NUT, Alimosho branch, Comrade Claudius Sofoluwe told PM NEWS that the strike was total and that it was never called off as being reported in the media.
He said in 2008/2009, the state government reached an agreement to pay teachers the new 27.5 percent TSS and that government paid the full rate for 13 months only for it to back out of the agreement.
"In February, 2011, government stopped paying the money. We complained and they promised to begin implementation by April 2011. They started paying 9.2 percent and promised that they would pay the full rate as from January 2012 and till now, nothing has been done.
Sofoluwe said that despite countless meetings to resolve the issue, the state government refused to pay and promised that it would pay 16.5 percent of the 27.5 percent by 2013, saying this was not acceptable.
He stated that the teachers would continue the strike until the government complied with their demands.
—Kazeem Ugbodaga