Thousands of commuters remained stranded on Abuja-Lokoja road this morning as a result of flood that has taken over the major artery linking the northern and southern parts of the country. Some of the travellers were stranded on the road for up to 10 hours.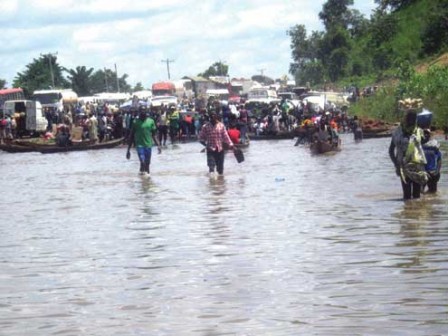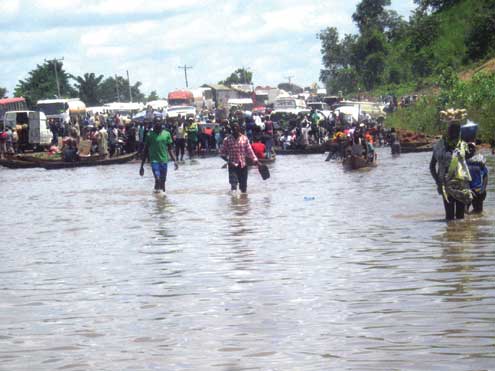 P.M.NEWS learnt that some of the stranded commuters going to or coming from Abuja and other locations from northern Nigeria have resorted to taking the longer alternative routes through Oturpo-Makurdi road or the deplorable and robbers-infested Ilorin-Morkwa road.
The Federal Roads Safety Commission, FRSC, on Sunday night asked commuters from Abuja and other northern states to the southern part of the country and vice versa to use alternative routes as it announced the closure of Lokoja-Abuja Highway.
The Commission, in a press release by Garuba Mohammed, its Kogi State Sector Commander who announced the closure of the Lokoja-Abuja highway on Sunday said the decision was taken to ensure the safety of road users.
According to him, the decision to close the road followed continued rise in the water level at Banda Village, two kilometres to Lokoja, which he said has made movement of vehicles on the road completely impossible.
Mr. Mohammed said the road would remain closed until the commission could guarantee safe vehicular movement.
The Road Safety boss noted that his colleagues and youths who have been helping motorists through the water for the past three days can no longer cope with the situation.
The National Emergency Management Agency, NEMA, said two million people in 350 communities spread across  nine local government areas of Lokoja, Kogi, Ibaji, Igalamela, Ajaokuta, Ofu, Omala, Olamaboro and Idah have been rendered homeless by the flood. Ishaya Isah, an official of NEMA disclosed this at the weekend, when Senator Smart Adeyemi and other National Assembly members from the state paid a visit to St. Luke Primary School, Adankolo, Lokoja, which had been turned to a relief centre for some of those displaced by the flood.
Senator Adeyemi himself came to the state capital from Banda through a canoe. Reports indicated that flood water has virtually taken over the Adankolo, Ganaja, and Jameta bridge axis of Abuja Lokoja road with some enterprising youths already making money by deploying boats to move stranded commuters and villagers across the road.
Outside Lokoja, reports indicated that the situation in Idah and Ibaji local government areas was also degenerating with some trapped victims taking refuge on top of trees.
It was learnt that the National Inland Water Authority (NIWA) has deployed three boats to rescue the victims of the flood.
Speaking with P.M.NEWS, this morning, one of the stranded passengers, Mr. Tayo Ojudu said he was at Lokoja about 5.30 a.m. yesterday but the flooded Lokoja-Abuja highway was impassable and officials of FRSC and police diverted his vehicle to Lokoja/Ajaokuta road which was also submerged by flood.
He narrated his ordeal: "From the flooded Ajaokuta road, we took bush (or village) paths through Makurdi, Benue State to Nassarawa State. In Makurdi, River Benue has also overflown its bank.
"We gathered that the flood in Makurdi had destroyed thousands of houses and including hotels. People, especially travellers, have been stranded in the area for up to four days.
"During our journey, some travellers were forced to disembark from their vehicles to board boats. We learnt one of the boats capsized and an undisclosed number of passengers were still missing up till this morning. But people who successfully moved from their boats boarded vehicles after they might have crossed the flooded road.
"We finally arrived Abuja after about 10 hours of an excruciating journey. As at this morning, the situation has remained the same."
Ojudu said some of his co-travellers who arrived Abuja today were considering alternative means of transportation and they might opt for air travelling as there was no hope of improvement of the water level in the flooded areas.
He added that villagers in the affected states like Kogi and Benue have been moving around their residence by boats while their houses have been submerged by the flood. They have also lost other properties worth millions of naira to the flood.
According to Mallam Musa Inuwa a resident of Lokoja, "We started noticing the upsurge of the river about a week ago but we were surprised when suddenly on Friday night the whole area was submerged overnight and some buildings around the river collapsed.
"Some of the submerged buildings have collapsed yet the government is not doing anything about it and you can see the long traffic jam."
A traveller who simply identified himself as Mr. Julius O. Miyanki, said he was coming from Togo to Keffi and arrived Lokoja around 4am and that as at 12noon he was still at the Lokoja axis of the road to Abuja.
He lamented the attitude of government toward the flood, saying he does not know when his vehicle will eventually cross over for him to continue his journey.
A motorists Mr. Kingsley O. Idjogbe a technical officer in the chambers of O.J. Onoja Associates, blamed the government for being insensitive to the plight of the masses, saying the director of National Emergency Management Authority (NEMA) should  be sacked with immediate effect as the agency was not concerned about crises management such as this.
"Can you imagine that up till now no single official of NEMA is here to see how to remedy the situation on ground? I got here around 5 am and it is past one in the afternoon. Only God knows when I will leave here and if it was in America that such a thing happened believe me, things  would have been put in place for stranded people to get to Abuja. Everywhere you go, you will see pot holes. Tell me, what are they doing with our money," he queried.
Some youths also took advantage of the situation to make some money by using their canoes to ferry passengers across one end of the road to the other at the cost of N100  per person and those who could not afford the money had to  trek across through the area using bush paths.
P.M.NEWS observed that it was only heavy duty vehicles like trucks and luxury buses that could drive across while the youths pushed the vehicles across  for a fee of N1500 or above depending on the type of vehicle.
An earth-moving equipment was later brought to clear a bush path for vehicles to pass as the long queue stretched for as long as 2 kilometres on both sides of the expressway. That also failed as the water level rose higher and FRSC warned motorists to take alternative routes.
—Oluokun Ayorinde/Abuja &                       Yusuf Muhammed/  just back from Lokoja

Load more