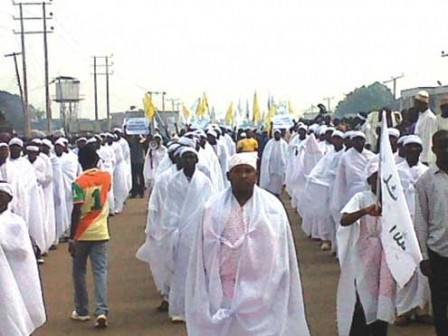 Shiite Muslims in their thousands trooped out in Kaduna, Kaduna State in Northcentral Nigeria today to protest the widely-condemned anti-Islam film.
The protesters gathered at Asikolaiye along Nnamdi Azikiwe Western bye pass Road and marched through streets, carrying placards with inscriptions such as:  'Death To America,' and 'Death To Israel and England.'
They dragged the flags of America and Israel on the roads as they protested.
They also chanted anti-America, anti-Israel and other western countries' songs.
The protesting Shiite Muslims of the Islamic Movement of Nigeria included women, children and elderly members of the movement.
They caused  traffic logjam along the busy Kaduna Western Bypass renamed after late Chief Nnamdi Azikiwe.
One of the organisers said the Shiite leader, Malam Muktar Sahabi, will address the press in the course of the protest.
Though the state government had earlier opposed the protest in the state for security reasons, the Muslims who started converging on Kaduna State since Sunday, insisted that they would go ahead with the protest irrespective of government's permission.
P.M.NEWS gathered that the state government was left with no option than to allow the protest to avert crisis.
However, the government deployed a team of armed soldiers and policemen to the areas where the protest was going on to control the crowd and contain possible outbreak of violence .
One of the protesters who spoke to P.M.NEWS said: "we cannot allow useless America and their allies to rubbish our Holy Prophet, peace be upon him and Islam as a religion."
According to him, the reason for the protest in Kaduna is to tell  America and Israel that the so-called sin of Mohammed cannot stop them from practising Islam as a religion.
Meanwhile, the protest within Kaduna metropolis has heightened tension among traders who were seen closing their shops and hurriedly returning home.
—Femi Adi/Kaduna

Load more