A middle-aged man identified as Oladimeji Fowowe has been arrested by the police at Iju  Police Station Red House, Lagos State, Southwest Nigeria, for allegedly setting his wife on fire, when he threw a burning stove and hot water on her.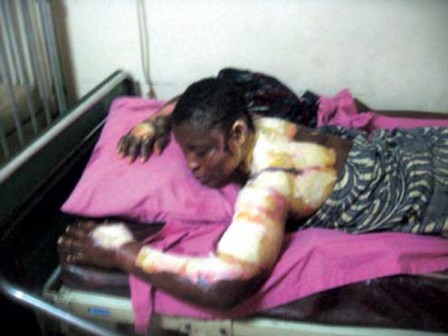 The suspect, who trailed his wife to Ijoko in Ogun State, southwest Nigeria where she had gone to assist her husband's younger brother's wife who had just put to bed a set of twins, was alleged to have committed the crime when his wife returned to Iju area of Ishaga, Lagos State from Ijoko
Speaking with P.M.NEWS on her hospital bed at Ogba, Lagos State, the victim,  Mrs. Oluwakemi Fowowe, said she left her husband and father of her three children, when his trouble and that of his mother became unbearable for her.
"I was at the passage facing outside not knowing that my husband had sneaked through the back door and the next thing I heard was a loud noise as he threw both the burning stove and a pot of hot water on me.
"My body caught fire and I ran outside, shouting for help before people assisted me in putting out the fire. I became unconscious before I was rushed to the hospital, where the doctors battled to revive me. I want all well-meaning Nigerians to come to my aid as I have no one to help me,''she moaned in pains
Oladimeji was subsequently arrested and handed over to the police at Iju Police Station, where he was detained but he was later granted bail.
His wife's family said he should not be sent to jail because of the three children his wife had for him. But he was advised to take care of the victim.
However, the wife's family decided to press charges against him when he failed to honour  his side of the agreement, to take care of the victim. He allegedly  abandoned her in the hospital.
Oladimeji, who had earlier told the police that his action was the handiwork of the devil, has gone underground to evade arrest.   The victim is appealing to well-meaning Nigerians to come to her aid as she requires about N400,000 for the treatment of the burns.
—Yusuf Muhammed

Load more