A yet to be identified female member of the House of Representatives representing Nasarawa state was involved in a head-on collision accident in Lagos Thursday evening.
She sustained a broken right arm while a mechanic driving a Volkswagen Passat car and another occupant died.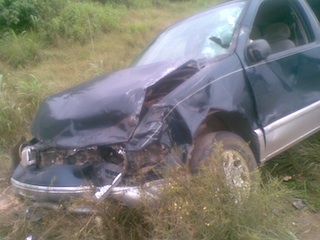 The accident which occurred at Okegun along the Ibeju-Epe expressway resulted in the Passat car splitting into two halves, throwing out the two occupants who later died before medical help could reach them.
The other car, the Nissan Villager SUV, with registration number NASS FL 143 REPS, Nasarawa, was driven by the female lawmaker with a Mobile police guard by the passenger side.
The policeman was flung into the bush as her vehicle skidded off the road following the impact of the collision.
Witnesess said the mangled Passat car with registration number AE 808 AKD was on top speed from Epe when suddenly the car's engine fell off, causing the Reps member's SUV travelling from Lagos to run into it headon.

Load more