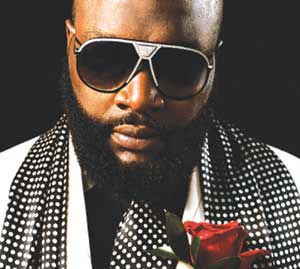 The recent release of the Nigerian version of American rapper Rick Ross' Hold Me Back video has continued to generate furore among Nigerians since its premiere last week. The new video, shot in seedy parts of Obalende and Sura on Lagos Island, when the beefy rapper came to Lagos for a concert in August, is tagged the West African version. It portrays the living conditions of Nigerians in that area.
The Nigerian version is coming seven months after the Maybach Music Group boss released the video of the same song tagged Explicit Version shot in the back streets of New Orleans, Louisiana.
The Nigerian video starts with short commentary on the Biafra war before he launches into series of scenes with highlights of where Ross was handing dollar bills to poor kids who race through the dirty slum waters to grab a note as he races off in a speed boat.
But some Nigerians were not thrilled by the video and they had knocks for the rapper for showcasing the already held stereotype about the country's slums in his new work.
Leading the challenge is rap star, M.I. Over the weekend, the Chocolate City rap artiste took to his personal blog to post his reaction titled 'God Forbid'.
A music writer with Hip-Hop World magazine also comments on the controversial video: "What a music video is not meant to do is act as a substitute for a documentary on the living conditions of a country."
Another commentator wrote: "Rick Ross is advertently/inadvertently awakening already held stereotypes about many African countries as war-torn and hunger-stricken.
—Funsho Arogundade