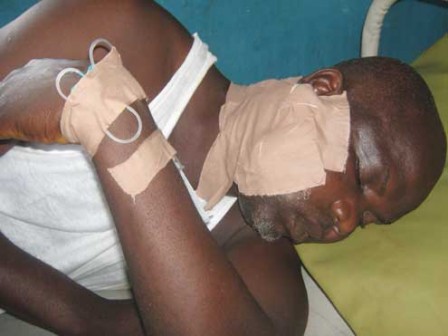 A popular audio and video marketer in Alaba International Market is being wanted by the police for allegedly stabbing another colleague named Isiaka Sanyaolu a.k.a Easy Ventures over a debt.
P.M.NEWS Entertainment learnt  that the incident happened last  Friday at the Alaba Intertnational Marketer, Lagos, southwest Nigeria.
According to an eye witness, Sanyaolu was said to have visited the suspect's shop inside the market to demand for a debt of about N350,000 which the latter is owing him over the sale of an audio CD.
A fracas was said to have ensued during which the wanted marketer broke a bottle and stabbed his colleague in the chin.
Sanyaolu was said to have been taken to a private hospital in Alaba area for treatment.
The Chairman task force of Music Advertiasement Association of Nigeria, Taiwo Fatoyinbo a.k.a Eko for Show was said to have been contacted and later reported the case at Ojo Police Station, Ojo.
Investigations revealed that the accused was said to have been invited by the police but has gone into hiding to avoid arrest.
Sanyaolu who is recuperating at a private hospital and Fatoyinbo confirmed the story.
Also, the president of MAAN, Alhaji Waheed Oyediran, confirmed that the case has been reported to him and his team is currently investigating the matter.
When the suspect was contacted on phone, he confessed to have engaged Easy in a fight when he came to his shop to demand for the money he was owing him, but denied stabbing him.

Load more