Cape Verde Island, the West African nation of just half a million people has created one of the greatest upsets in Africa's football history, knocking out big gun Cameroon out of the 2013 African Nations Cup.
After a 2-0 home victory at home in Praia, the Blue Sharks team from the Portuguese-speaking nation lost to Cameroon at home in Yaounde 1-2, thus effectively securing a place in the 16-nation tournament for the first time. The aggregate score for the two teams: Cameroon 2, Cape Verde 3
Cameroon has had to recall Samuel Eto'o, its most famous striker, to strengthen the squad and avoid elimination by the small nation. It also sacked its French coach Denis Lavagne and replaced him with coach Jean-Paul Akono.
But the efforts were all in vain.
Cameroon recorded the first goal of the match, but Cape Verde equalised. By regulation time and as the game dragged into extra minutes , it was clear that Cape Verde has had its name written in the history books, as it would have taken a 4-1 scoreline for Cameroon to edge out the small Island. Cameroon was however able to increase the tally to 2-1, but it was not enough to stop the Blue Sharks march of history.
And so for the second time, Cameroon will be missing in the Nations Cup, just like they were in Equatorial Guinea/Gabon two years ago.
Cape Verde have indeed carried out a historic feat by eliminating Cameroon, four-time tournament winners and one of Africa's most successful teams.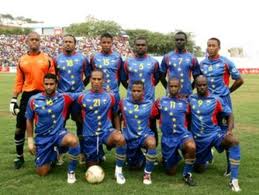 "We had never expected this in our wildest dreams," Cape Verde's national team coach Lucio Antunes had said before the match.
The archipelago of 10 islands in the Atlantic Ocean, 570 kilometres off the coast of Western Africa, has been known more for famine disasters and mass emigration than for sporting success.
The win over Cameroon has now, however, propelled the Blue Sharks up 14 places to an unprecedented 51st place in FIFA's world rankings. That puts them not only above Cameroon but also teams such as Nigeria, Poland, Scotland, Bulgaria or Austria.
Twelve years ago, the national team, which was formed only in 1982, was one of the worst-ranked in the world at 182.
The Cape Verde squad is made up mostly of players from clubs around Europe. Their star striker is 37-year-old Lito who plays for lowly Portuguese second-division side Atletico.
Strikers Ze Luis (Braga) and Ryan Mendes (Lille) have current Champions League experience, while others play mainly for smaller teams in Portugal, but also in Luxembourg, Cyprus, Hungary, Romania or France.
Cape Verde does boast famous footballers with the likes of Manchester United's Nani or defender Rolando, but they have chosen to play for Portugal, while former SV Hamburg player Mickael Tavares, opted for Senegal rather than the home of his forebears.
with reports by www.digibet.info

Load more