Chief (Dr.) Isaac Jolapamo, Chief Executive Officer, Morlap Shipping Company Limited and chairman, Indigenous Ship Owners' Association of Nigeria, umbrella body for all indigenous ship owners and operators in Nigeria, in this chat with FEMI AYODLELE assesses the state of shipping business in Nigeria and narrates the ordeal of indigenous ship owners in Nigeria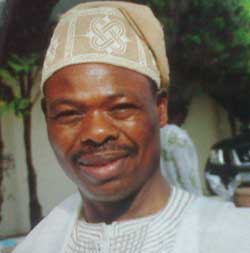 How would you assess the shipping business and industry in Nigeria?
My assessment is that shipping business in Nigeria is like a suicide mission, especially if you want to do the right thing. In other words, if you don't want to cut corners, you are most likely going to run into trouble or pay a high price. The truth is that most people who are into shipping business are all in debt. Some have sold their houses and belongings to stay in business. Their helplessness is heightened by the absence of a systemic framework or structure to protect the interest of indigenous ship owners in Nigeria. Whatever law the government makes, there are agencies or people who are in position to enforce the law but what you find is that these laws are enacted for personal interest. As it is, the business/industry in Nigeria is dominated by foreigners. The foreign domination tends to make the business look like the indigenous shipping companies are not capable or our services are sub-standard. But the fact is that the levels of assistance that ought to have been given to local ship owners have not been provided. They are not opportune to get the kind of jobs offered their foreign counterparts. The chunk of the work is given to foreigners because there are believed to be able to do it best and if this is the case, the indigenous companies are left to scurry for the available opportunities.
For a proper illustration, let me use myself as a case study. In the 1970s to 1980s, I worked as a marine expert in the Nigerian National Petroleum Corporation, NNPC, and it's been over 35 years now. With my experience, one should feel I'm more than capable to provide NNPC with vessels. But it is a different ball game. The notion is if I do, my vessels would be sub-standard. The major problem anybody in this business is facing is that ship owners are not getting the right job/contract opportunities. Recently, President Jonathan had a retreat focusing on the development of maritime industry because we have been crying that this industry has the potential to generate huge revenue running to trillions of naira and employment opportunities for our teeming unemployed youths. Our waterways ought to be safer than what we have now. At that retreat, the President delegated a 13-man committee to look into our submissions and I hope by the time those recommendations are approved, things will be better for local operators.
Nigerian Shippers' decree 13, now Nigerian Shipper's Act of 1978, Cabotage Law, among others were enacted to empower local shipping companies to compete with their foreign counterparts. Have they made any impact or are you saying they have not been effective?
Laws in forms of Acts or decrees remain ineffective or, perhaps, effective on paper if the people or agencies to make them work have ignored their oversight functions. In fact, the situation is worse if they do not even believe in the laws. They need to 'Nigerianise' their operations, if I may put it that way. These agencies are somehow incapacitated. They need to improve and be equipped to perform their statutory roles. The only time they tag or discriminate against a Nigerian shipping company is when it comes to oil lifting. All this menace we are witnessing – piracy, bunkering – are signals that some people are not doing their work. People who ought not to be celebrated are turned to celebrities. What is happening in the shipping industry and the maritime industry at large is a reflection of the Nigeria society.
In spite the dominance of foreign ship owners and the deluge of constraints confronting indigenous ship owners, how are they faring in business?
Some have fizzled out while others are still trying to weather the storm with the hope that things would change. It is so pathetic. In fact, I can tell you that members of my association have invested in excess of $3 billion into that industry and they can hardly recoup one quarter of the investments. But if you say this, the argument or excuse, especially for those who don't understand what we face, is that ships used by Nigerians are rock-bottom ships. Whereas before the ships were purchased, they were in best shape. They tend not to acknowledge that it was when the ships got to Nigeria and the owner had no job offer that he left the ship obsolete and rusting. It is here in Nigeria you are limited with the age of a ship. In the North Sea where the weather is so bad, they are still using 30-year-old vessels. Even the NNPC which ought to be yours doesn't want to see you; so who else should?
 Are you suggesting that if indigenous ship owners are well equipped, they can compete with foreign ship owners?
It is not all about being equipped. Let me explain better. Shipping is developed on a tripod. You have the ship, the job it does, and the financier. If you don't get the job you can't get a financier. You are crippled and that is the bottom line. You can only lack finance if you are the greedy type. Whoever is going to give you money must be sure you have a good track record. If you have acquired experience over the years and have proved to the banks you can source for loan and pay back, then nothing stops you from being patronised but the reverse is the case here. The more you know the worse you become because you cannot be induced and do sharp practices that are against the ethics.
 Can you talk about other challenges?
Another setback we are contending with is in the aspect of training. At the moment, we have two recognised training institutions. When trainees graduate, they don't have a place to work and acquire sea time experience. They are limited to ships that are at home. No foreign vessel will hire them. If the ships that we have are not there and they can't find a place to do their training, they will be half-baked. Those who have been trained over the years are going into extinction and we have been agitating for more training schools and ships so that these trainees can have something to do while those who are half-baked can also be retrained. Running the ship is also another challenge. If you don't have qualified engineers or personnel who are up to date with the technology, they can cause more damage for you and land you in trouble. Getting qualified personnel is not easy and even if you do, it comes at a high cost.
Cabotage Vessel Funding is one of the palliatives indigenous ship owners ought to take advantage of. Has any of your members benefited?
They have shortlisted and of course they are going to disburse. We gave them criteria to follow; whether they followed them or not is a question for them to answer. But they are in the process of disbursing. It's something that is so encompassing. That is, the bank will also participate by giving 35 per cent, NIMASA 50 per cent and the owner brings 15 per cent of the money. Of course, the greater load is on the banks because they have the onus of saying this person can pay back or not and if the person doesn't, NIMASA can hold him responsible. That is the arrangement. But the money is not even the priority. I have been in this business for over 40 years and am perhaps the oldest person in this business and I'm saying to you that the money is not even the main barrier. You can access fund anywhere in the world if you have a good track record. When I was to buy my first ship in 1987, that was two years after I left NNPC, I was given a paper/document by Mobil to a bank in the United Kingdom, UK, and the questions they asked me were: "Which car did you come with? Do you drive a luxurious car?" I was surprised but I revealed to them that I came by underground train. He didn't even refer to his boss before he approved it. If a bank sees you have the capacity to pay back they will grant you but if you are not given the opportunity to prove yourself, how would the bank know what you can do?
After the collapse of Nigerian National Shipping Line, Nigeria no longer has a national fleet. Why has it been difficult and what does Nigeria stand to lose?
It is similar to the scenario I just painted earlier; putting the cart before the horse. We have actually analysed what we stand to lose to the federal government. The President was at a forum where we analysed what we stand to lose from facts and figures obtained from the Central Bank of Nigeria, CBN. We are import-dependent. The multiplier effect on us as is that we buy everything in this country as against if we bring it in ourselves. We are just doing things in Nigeria the way Fela put : "Upside down." Instead of doing our export at CIF, we are doing it at FOB and instead of doing it at FOB, we are doing it at CIF. If things are done according to best practise or international standard, then a national line can spring up
There seems to be a resurgence in the activities of pirates. What is your reaction to this?
It is the problem we have created. We are not like Somalia. It is a product of reactions. Pirates go from the shore here. They are experienced at it, which means they are trained sea men. If they had legitimate work to do, they would not be faced with such situations. It is the multiplier effect of doing things in the wrong way. There is an adage in Yoruba that says: Your child is not a dry cleaner yet he brings in other people's clothes and you can't ask questions. Our environment is vulnerable to anything and this thing happens when it comes to our seawaters. If adequate measure is put in place, there will be sanity in our waters. They know they can get away with their loot due to porous security and this tends to encourage them.
Some indigenous ship owners were accused of knowingly or unknowingly lending their ships to pirates. What is your explanation?
Members of our association are professional businessmen who know what is expected of them and the ethics of their profession. None of our members can be said to be collaborating with pirates. I'm sure they know the implication of that to their image and business interests. But be that as it may, if anybody is caught participating in this act or as an accomplice, the association will not take it lightly and I encourage anybody who sees anything of such to inform the association and such ship owner will be handed over to the appropriate authority for necessary action.
What is the level of participation of indigenous shippers in crude oil lifting?
I can categorically say the level of participation is at zero per cent. I know it sounds incredible but that is the situation. Maybe some indigenous ship owners are participating without our consent but as far as I know, none of our members is involved.
-Published in TheNEWS magazine