Resident Electoral Commissioner: No Voting In Two Polling Units

All  is set for the Ondo State governorship election scheduled to take place tomorrow.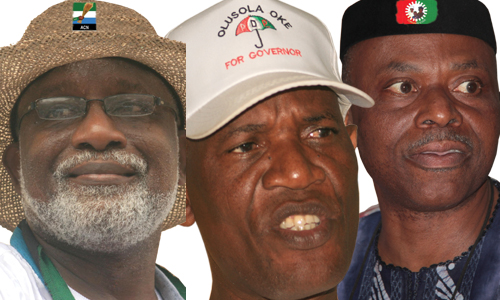 There is heavy security presence following the deployment of policemen, soldiers and other security personnel to ensure the election is hitch free.
The Resident Electoral Commissioner for Ondo State, Mr. Akin Orebiyi, this afternoon announced that election will not hold in two polling units in Ese-Odo Local Government Area of Ondo State due to a dispute among the natives on where the Independent Electoral Commission should site the polling unit.
The election will therefore hold at 3,007 polling units across the state.
According to him, "we are hoping that by the time we commence another voters' registration exercise next year, they would have resolved their grievances and they will join us next year."
As at press time, electoral materials have been dispatched from INEC office in Akure, the state capital to every part of the state.
About eight white Toyota Coaster buses carrying members of the National Youth Service Corps, NYSC,  have also been deployed as ad hoc staff of INEC to conduct the election.
They were accompanied by armed policemen.
At about noon, the Chairman, INEC, Prof. Attahiru Jega was not yet in the state but INEC Resident Commissioner in Southwest, Prof. Lai Oluwode, was around.
He was said to be at a meeting when P.M.NEWS called him on phone this afternoon.
Accreditation of journalists covering the election was ongoing at INEC office, located at Alagbaka area, Akure.
Residents were going about their normal business activities without any fear of molestation or security breach.
Thousands of soldiers and policemen were deployed from different states to Ondo for the election.
State Security Service, SSS, operatives were also deployed as well as 7,000 officials of the Nigerian Security and Civil Defence Corps, NSCDC.
The Labour Party represented by the incumbent Governor Olusegun Mimiko, former National President of Nigerian Bar Association, NBA, Mr. Oluwarotimi Akeredolu, the Action Congress of Nigeria, ACN, standard bearer and ex-National Legal Adviser of the People's Democratic Party, PDP, Mr. Olusegun Oke are the three front runners in the election.
Ten other political parties which the people regarded as mere pretenders have also fielded candidates for the polls.
The Inspector-General of Police, Muhammed Abubakar has ordered his men to shoot any trouble maker who resists arrest.
He announced a 6 a.m to 6 p.m restriction of movement during the election period, adding that there will be no hunting or fishing for at least three days during this period.
General Abubakar said soldiers were deployed during the governorship poll in Edo and they achieved the desired result of being part of a free and fair poll pointing out that he did not expect anything short of this from his men in Ondo during tomorrow's election.
In addition to restriction of movement within the state, Abubakar said inter-state travellers will have to convince the police they were passing through the state before they could be allowed movement within Ondo.
The General Officer Commanding, GOC, of the 2 Division of Nigerian Army, Major-General Mohammed Abubakar did not state the number of soldiers deployed to the state for the election, for security reasons.
The GOC warned his officers and soldiers not to obtain money from any politician warning that such bribe cannot make the soldiers rich.
Some of the residents of Akure interviewed by P.M.NEWS said they expected a peaceful, free and fair poll tomorrow but were not willing to hazard a guess on which candidate will emerge victorious.
—Funsho Balogun, Folarin  Ademosu & Jethro Ibileke/Ondo

Load more