Oluokun Ayorinde
President Goodluck Jonathan has promised that the federal government will partner with Akwa Ibom State government in the construction of Maintenance,Repair and Overhaul, MRO facilities at Akwa Ibom International Airport.
The President said this at a reception held for him after laying the foundation of Akwa Ibom ultra-modern stadium and commissioning of the new Governor's office during his one day visit to the State on Saturday.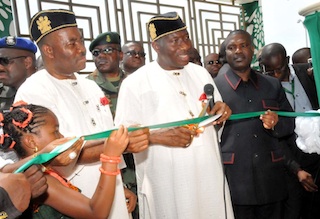 The President who was responding to a request by Godswill Akpabio, Akwa Ibom State Governor said the hangar project is a great facility that the Federal Government must encourage as it will not only bring development to the state but to the entire nation.
According to the President, the facility has the potential of turning Nigeria into an aviation hub of the sub-region if completed.
President Jonathan who said he has been familiar with Akwa Ibom State since his days as a director in the defunct Oil Minerals Producing Areas Commission, OMPADEC commended Governor Akpabio's effort to transform the state, saying his administration has done wonderfully well.
The President said the achievement of the Governor is a testimony to the fact that the principle of democratic accountability is taking root in Akwa Ibom State.
Speaking earlier, Akpabio said the new office is conceived to meet the needs of the ever changing world. He said the new office has all modern facilities and the Council Chamber is equipped with video conferencing facility among others.
The Governor also said the new Akwa Ibom Stadium is designed in line with global standard for such infrastructure.
While noting that in spite of its potential, Nigeria has been left out global sports market,Governor Akpabio said the construction of a new stadium, is motivated by the desire of the state to make its citizens partake in the multi-billion dollars global sports industry.
The Governor thanked the president for approval of Export Free Zone for Ibaka Deep seaport facility and permission granted the State to dualise the Uyo to Aba and Itu to Calabar expressway.
He added that the President has promised that funds spent on the two road projects will be refunded.