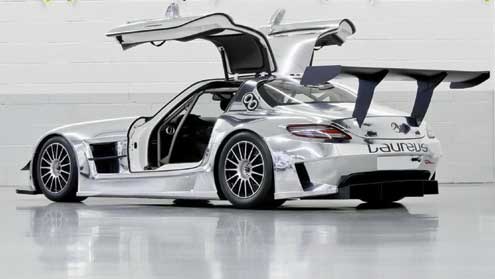 While BMW has M Division, Audi has quattro GmbH's RS, Mercedes-Benz's performance division is AMG. Based in Affalterbach near Stuttgart, AMG has been producing high performance Mercedes model variants for many years. It also runs the company's motorsport activities, which include the German DTM touring car series and builds customer SLS GT3 race cars for private teams to compete in GT3 championships round the world.
Is the Mercedes SLS AMG the fastest, most exciting super car on the market? Probably. Is it the most luxurious GT? Not by a long shot. Does it have significant way of attraction? Totally.  But, have you seen how sexy those Gullwing doors are when they pop open?
Using the gull-wing as inspiration gave the car its characteristics shape, and perhaps its most unique and iconic feature – gull wing doors. Fortunately, the rain let off long enough to allow Merc's representatives to provide a quick once over on the models' specifications and appointments before heading off to a rousing applause.
It produces a mesmerising 320kW of maximum power and 700Nm of torque, while boasting a 22% overall reduction in fuel consumption thanks to Merc's lightening and tuning of its drivetrain. It's fitted with an ECO start/stop function and Merc's 7G-Tronic Plus automatic gearbox which has been optimised for fuel consumption and comfort, which makes it a fantastic open-top highway cruiser and according to Merc's official figures it'll sip less than 10l/100km in a combined cycle.
But don't be fooled by this frugalness, as the new the SLS can scorch from a standstill to 100km/h in 4.6 seconds and on to an electronically limited top speed of 250km/h. At the helm it feels refined and sophisticated, especially in its comfort setting and with the optional Bang and Olufsen audio system thumping out the Foo Fighters' greatest hits at full blast.
There remains a sense that the SLS is tuned for avenue cruising more than as an outright sports car dynamically. However if it's outright sports cars you seek, Mercedes-Benz has left it to its dedicated guys in Affalterbach at AMG, where its mechanical wizards have produced the manic SL63 AMG and SL65 AMG.
Merc's keen attention to detail in lightening the car through the extensive use of aluminium in its body shell and even carbon-fibre in the AMG models ensures that it remains the king of the hill if presence and satisfaction is what you seek in a low-flying super sports car. It has a N50m asking price.