The occasion was to mark a historic end of the visit of American tennis icons, Serena and Venus, but the Williams sisters gave Lagosians more to cheer during an exhibition match played at the Lagos Lawn Tennis Club in Onikan, on Friday.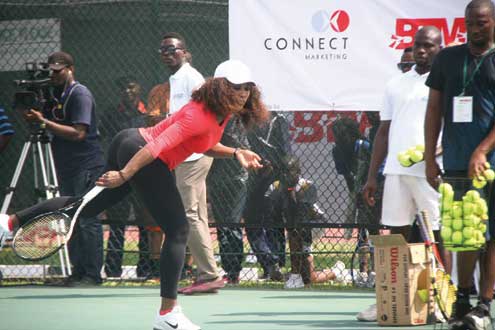 The Williams sisters, who were warmly received by the tennis loving Nigerians, including Lagos State Governor, Babatunde Raji Fashola, thrilled the fans from the first set of the encounter, which Venus won 6-4, 7-5.
As both sisters exchanged heart breaking strokes, the fans yelled on top of their voices showing that Nigerians really enjoyed the game played by the American tennis champions.
It was gathered that the Lagos Lawn Tennis Club recorded its best ever attendance for the first time since it came into existence in 1895, although the event was poorly managed by the organisers.
Both Serena and Venus with their mother, Oracene Price, were honoured by the management of the club before the epic match, while the sisters also played an exhibition doubles match with two Nigerian kids, Olawale and Gloria.
The Williams sisters said they enjoyed every minute of their visit to Nigeria. Venus, who has won seven grand slams, has made a total of $29m in prize money as a player, while her younger sister, Serena has made $45m through the 15 grand slams titles she has won and other tournaments across the world.
The sisters after the match signed autographs for Lagos fans after which they left for the second leg of their Africa tour in South Africa.
—Tunde Oyedele

Load more