Okechukwu Chukwudi Ukeje, popularly known as O.C Ukeje, won the 2007 Amstel Malta Box Office, AMBO, and crowned it with an outstanding performance in the award-winning movie, Whitewaters. He tells FUNSHO AROGUNDADE about his steady growth in Nollywood, his roles in upcoming movies like Half of A Yellow Sun and Hoodrush and as well as attraction to older women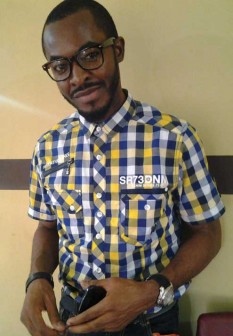 Learnt you were in London for the Olympics?
I was part of the cast and crew put together by Lufodo Productions, owned by Uncle Olu Jacobs and Aunty Joke Silva, on a performance tour of the United Kingdom. We went for the performances of some international stage plays as part of the London Olympics. I was in two of the dramas staged.
Lately you have also featured in some international projects?
Yes. It all started after I finished my acting workshop programme in Los Angeles, United States. I had met Jeta Amata, who was shooting a new movie called Black November and in that movie are international stars like Mickey Rourke, Kim Basinger, Hakeem Kae-Kazeem and Vivica Fox. My participation in that movie was a great experience for me. And this year, I had a part in the big budget movie, Half of A Yellow Sun, where I played the cousin to Odenigbo, a character played by Hollywood star Chiwetel Ejiofor. In that film are other international stars like Thandie Newton, Anika Noni Rose and Nollywood best including Onyeka Onwenu, Genevieve Nnaji and Zack Orji. Early this year, too, I shot another movie in the United Kingdom titled Rubicon, where I was the only home-based Nigerian that featured. The rest of the cast are from United Kingdom and other parts of Europe.
Would you say you are gradually achieving that dream of hitting the international market you crave for?
Well, I would say I have started. And not only me, but others too. We have started and it is a step in the right direction with more Nigerians featuring in numbers of international projects. Gradually, we are getting there as we feature in all of these projects. It will be opening up the international market for us as we meet the right people that could help open up our acts.
You have also taken a lead role in a new musical movie, Hoodrush about to be released at cinemas. Tell us about your involvement?
Hoodrush is a musical film. I had met Dimeji Ajibola, the writer, producer and director of the movie while I was in Los Angeles. While I was studying acting, he was studying filmmaking. So, we already knew each other. When he came back to Nigeria and was about to shoot the new movie, he called and told me about the audition. He invited me and I did the auditions, which impressed him and he later called back to discuss what he wanted. More importantly, I was glad when I learnt that I would be working with people like Bimbo Akintola and Gabriel Afolayan. I was convinced that he (Dimeji) wanted to do the project as properly as possible. He later gave me the script and CD for the music. When I listened to the CD, I was generally impressed with the attention paid to details in the music. I was also impressed with the amount of work he had put into producing the music. But I was further thrilled by the fact that we are going to be recording our own songs.
Who wrote the songs?
The songs were written by a young musician called Password. He wrote and produced the songs. I just got the CD with only his voice. I listened and learned the lyrics. Thereafter, I went to the studio where he now laid the instrumentation while I sang.
What exactly is your role in the new work?
I played the role of Shez Jabare, a brother to Tavier Jabare. Two boys who had the pretty best of life courtesy of their father who was a renowned musician, but they lost everything including their dad and fell to grass. They are now looking at ways of getting out of their problem through a Herculean dream of becoming music stars. My character is that of an edgier guy, who is looking for how to take risk and get ahead. He is a guy who wants to explore what other options that can get him out of the hood and be up there again while his brother, Tavier, is a calmer guy.
How easy was it for you interpreting that character?
Shez's role is not like something that I haven't seen or experienced before. I could easily relate to Shez's character in the film. The only difference is how much of the risks I would have taken as a person instead of that of my character in the film. So, it was easy for me to carry through with the character because we are taking risk everyday to make sure that we get ahead in life.
Could your role in Hoodrush be a realisation of your dream of becoming a musician?
It is really a good way to start because I haven't officially put any songs on the radio. I am happy that my role in the film would actually showcase to the world that I can actually sing. And it is all written there in the script that we recorded the songs ourselves. It is good. I don't know if the director plans to release independent CDs of those songs because these are full-blown songs. I don't really know his plans. But either way, since the music is woven inside of the movie and they know that everything was recorded by us, and it would be in the credit, I am glad about that.
What would you say will stand this movie out from the others you have done in the past?
I would say first of all because it is a musical, a different genre. Initially, I was skeptical because generally when we do musical here, it was usually for epic stories. But with a critical look, this new movie was different as it is the first general contemporary story that will have music infused on that level. Secondly, in terms of casting, the movie has people who interpreted every scene well. This is a movie that paid attention to every detail. For instance, in the romance scenes that I had with the character played by Chelsea Eze, the director wanted us to make it as detailed as we could because he planned to sell to the international market as well. The director knows that as far as most of our movies in Nigeria here go, the romance scenes are usually flat and not nice to watch. But he ensured that those romance scenes in Hoodrush are really nice and enjoyable.
What has really helped you stay relevant in the industry more than six years after winning AMBO?
I always say it is important for people to be talented before getting involved in any reality show. Because there is no point going into a reality show competition if you don't have a plan of what you want to do when you win or when you eventually become famous. If you don't have plans, it will just be winning a cash prize and a car, and it ends there. For me, the advantage was that I was blessed with acting and music talents, and also thank God for a good look that was perfect for screen. Then, I had it at the back of my mind that if I won the competition, it would take me somewhere and even if I didn't win, it would have probably still pushed me to a certain good degree. And that has always be my advice for other young folks, that let there be talent before you go into reality show.
How have you found the transition from a reality television star to a movie star?
It was really very difficult at the beginning because winning a reality TV show does not translate to immediate success. Things didn't work out easily for me. After I won the Amstel Malta Box Office, I didn't work for the whole of 2007 as I was signed for one whole year. Then I was busy with the AMBO movie project. However, during that time, many people were calling me to come and work with them but I couldn't because I was busy shooting Whitewater. And the film wasn't released on DVD pretty much later. Then, there were talks about me winning a reality show and no one had seen what I had to offer. This is because I was tied by my contracts as the winner of the AMBO. So, all through 2008 and 2009, it was pretty difficult for me. In 2009, when I was eventually leaving for Los Angeles for study, I had made up my mind that if I returned and nothing changed, I would have to do something else outside the creative industry. But thank God, when I got there, I established a lot of contacts which helped me have some breakthrough.
What are the other challenges you faced after the AMBO victory?
I experienced those difficulties from movie producers and directors who refused to take up greenhorns into their projects. In all fairness, I know this is all about business. Filmmakers have to think of how they are going to recoup their money. In that case, they would naturally go for those artistes that will help them make the money invested in their movies. If a producer knows that Genevieve Nnaji is a guarantee to make his movie a success, he would rather use her. It was really a setback for many new artistes like me then. You are a new face and people don't really know you or what you can do. We need some time to be groomed before we can start to fly. But save for few people that I had worked and interacted with in the past that somehow believed in me and gave out some roles. Also as a reality TV show winner, I was faced with financial challenge. As a celebrity, the whole press is mounting pressure on you to live as your present status dictates. They expected to see you dress well at both events and while on the streets. You are no longer expected to be seen jumping from buses and all that. You really face a lot of pressure and if you are unlucky to have spent your winning money unwisely or fall into bad investment, it won't be funny at all.
What is your take on the demise of AMBO?
It shattered me that such wonderful project could just fizzle out like that. I was really sad. A number of times, people have asked me that, if not for AMBO where do I think I would have been? And I usually tell them I don't know. But the truth is that the platform AMBO really did a lot in my life. It has opened various channels for me and many other young talents. I know some people who had recommended me for some projects simply because they knew I was a product of AMBO. There are other winners who had come behind me and I know how well they are doing in the industry today. It was really painful stopping such fantastic project. For every bunch of talents, there are reality shows for them on television. Nigerian Breweries plc, the sponsors of AMBO, have other reality shows for music and dance still running on television. So why would they stop the one for acting? I don't know and it is so sad. That is why I keep saying that we (actors) are the least seriously considered in the entertainment industry. This is because for many years, we never took ourselves seriously and if you don't take yourself seriously people would never respect you. See where music and dance are right now? See the state of comedy industry right now? It is all amazing. But we in the movie sector are the ones that are not seriously considered. It is so sad that AMBO was ruled out by the sponsors.
How are you dealing with fame and women?
To be honest with you, fame? I am not there yet as I am still trying to build a career for myself. We actors are not like musicians. A musician can become known with just one song. You may not know him yesterday but with one hit song today on radio, he would become big and gets invited to all the shows in town. Before you know it, he is everywhere and that's big money for him. But for actors, it takes time for you to build. Featuring in one big movie today does not guarantee your invitation to another. It takes time to grow and attain celebrity status in the movie industry and if you realise that, one of the things you need to run from is women. For me, it was important to consider that. You can't just be up and about with different women because you will be losing energy and money.
Are you saying you are not into women?
Not that really, I have a number of them as friends. I don't turn any of them back because you don't know who is who. You don't know who among them could be your meal ticket. But when they are too many, you may lose your sanity. And in this job, you have to ensure that your sanity is intact. Women could be a great distraction but one has to be as focused as he can. That is why I like my role in Hoodrush movie. The character I played actually portrays what young boys are doing now: dating older women for money. Like Shez my character in the movie, if I have a sugar mummy, maybe I would be living better now.
You believe having 'sugar mummy' could make you rich?
Not that I believe having a sugar mummy will make one rich. But let's look at it, the point of having a relationship with a sugar mummy is to be better off. If you choose to have it, you better make sure that it favours you. I know that a lot of guys are into it, some approached those women while others were approached. But like the saying, 'If you want to swallow frog; swallow the big ones'.
Have you been approached by any before?
Of course yes. I have been approached by quite a number of older women.
And you considered some?
Well, to be honest with you, there are some of these women that I found really exciting and attractive. But there is one thing with me and women; I would rather have a relationship than just a fling. Then again, I must tell you that I am very afraid of older women.
Why?
I am afraid of them because they seem to be more experienced. How would you deal with them since they have been on this earth far longer than you? They are more connected and know more people. You can't toy with them. Even if you are into the relationship with an open-mind and want to back out after a while, what if the woman says no? That's where the trouble begins. You either get stuck or be dealt with. So, I am conscious of all these.
Can you marry any of these older attractive women of yours?
Not really. I think I would still prefer to marry a woman younger than me.
Are you not being old school here?
It is not about being old school. I do believe that age is nothing but a number, yet I would prefer a younger woman anytime, any day.
Are you happy where you are now?
I am happy and still look forward to a brighter future. I have made a lot of progress winning various awards including AMAA's Best Upcoming Actor and City People's Most Promising Actor. I would say without a shadow of doubt that I have made progress in the last few years I have sojourned in the industry.