Bruce Springsteen said Tuesday's US election was a vote on narrowing the gulf between the American Dream and reality as he fired up an election eve crowd for President Barack Obama.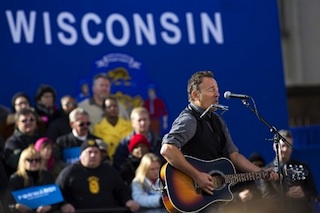 Springsteen was headlining three Obama rallies on the last day of the campaign in Wisconsin, Ohio and Iowa, and traveling with the president on Air Force One between stops.
"For the past 30 years, I have been writing my music about the distance between the American dream and American reality," Springsteen said, as he strummed an acoustic guitar in the liberal college town of Madison, Wisconsin.
"Our vote tomorrow is the one deniable way we get to determine the distance in that equation.
"Tomorrow we get a personal hand in shaping the kind of America we want our kids to grow up in," the Boss told the 18,000 strong crowd.
Springsteen, who rocked a much bigger 80,000 strong crowd for Democratic nominee John Kerry in the same spot eight years ago, noted that Obama is no mean singer himself, after he crooned Al Green's "Let's Stay Together" at a fundraiser.
"I think that he has musical aspirations for himself, that's why I need him to stay at the White House for the next four years, I don't need the competition," Springsteen joked.
The New Jersey-born rocker also admitted that Obama's lethargic first debate performance "freaked me out" but said that the president had "schooled" Republican nominee Mitt Romney in the other two showdowns.
"I stood with President Obama four years ago and I'm proud of standing with him today," Springsteen said, saying he was thankful for Obama's reform of health care and Wall Street regulations.
Springsteen opened his short set with his song "No Surrender" and followed up with classics "Promised Land" and "Land of Hope and Dreams."
Obama, who can effectively lock up victory in Tuesday's election with victory in the trio of states he is visiting on Monday, enfolded Springsteen in a bear hug as he took the stage.
"I cannot imagine not being fired up after listening to Bruce Springsteen and I can't thank him enough for everything that he's done for this campaign.
"He is an American treasure. He gets embarrassed when you talk about him that way.
"But he tells the story of what our country is and what it should be and what it can be. And I get to fly around with him on the last day that I will ever campaign. So that's not a bad way to end things."
Romney was also drawing on a musical starpower, using rocker Kid Rock, to fire up his election eve faithful on Monday, and was due to appear with the Republican candidate at his final election rally, in New Hampshire.

Load more