The producer of 'My Pikin' teething mixture, Kola Gbadegbesin Okunlola, is dead.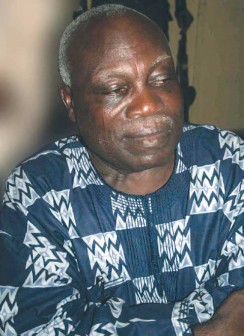 He had been standing trial alongside his company, Barewa Pharmaceutical Limited, and two staff of the company, Adeyemo Abiodun and Egbele Austin Eromosele.
Okunlola died on 27 October, 2012, aged 58 years.
Sources said Okunlola died at St. Nicholas Hospital, Lagos, Southwest Nigeria, where he was admitted when he suffered haemorrhage stroke.
A native of Ikimu, Osun State, Southwest Nigeria, the late pharmacist attended Akinorun Grammar School, Ikirun, University of Bradford in the U.K. He qualified as a pharmacist 39 years ago.
On 8 March, 2009, he was arraigned alongside his company with two other staff on a six-count charge of manufacturing and distributing adulterated drugs.
In the criminal charge filed by senior state counsel from the office of Attorney-General of the Federation, A.K. Aliu, it was alleged that  Okunlola, Abiodun, Eromosele and Barewa Pharmaceutical Company of 1-5 Olugbo Close, Shasha, Akowonjo, Lagos, on or about 2008, conspired together to manufacture and distribute adulterated drug 'My Pikin' baby teething mixture with the intention to cause death or grievous bodily harm to members of the public.
They were therefore accused of committing an offence contrary to Section 1(A) of the Counterfeit and Fake Drug and Unwholesome Processed Foods Act 25 of 1999 which is punishable under Section 3 of the same Act.
They all pleaded not guilty and their counsel, Mr. Osaro Eghobamien, SAN, applied that they be admitted to bail.
But the prosecutor, A.K. Aliu, opposed the bail application on the grounds that the drugs allegedly produced by the accused persons had caused the death of so many children.
In his reaction, Eghobamien told the court that the claim by NAFDAC that 'My Pikin' has caused the death of many children was nothing but a ruse as the accused persons were not charged with murder, no death certificate was filed before the court and investigations conducted revealed that the children who died were above the age of children that can use baby teething mixture.
He said, invariably, the death of the children whose identities were not disclosed to the court might be as a result of other causes.
After listening to the submission of the counsel to both parties, the presiding judge, Justice Okechukwu Okeke said there is no death certificate filed before the court to prove that deaths occurred by the use of the drug.
He, therefore, admitted the accused persons to bail on stringent conditions. They were able to meet the bail conditions in about three months.
Justice Okeke also warned that if the bail was used as a ploy to delay the trial, it will be revoked.
Okunlola was equally arraigned before a Kaduna High Court charged with murder. But the case was later struck out for lack of diligent prosecution.
The trial in Lagos dragged on for about three years. The prosecutor managed to call two of his witnesses before Okunlola died.
When P.M.NEWS called his counsel, Mr. Eghobamien, he said it was unfortunate that the man died before the conclusion of his trial, as he could not prove his innocence before his death.
Some of his neighbours at 16, Ilawe Street, Gbagada, Lagos, who spoke on condition of anonymity, said the man was a good and amiable person.
They opined that his problem started when NAFDAC in frenzy of media trial claimed that the man had been producing baby mixture that had killed many children.
They added that his factory was closed down and even another factory that was not part of Barewa Pharmaceutical Company was also closed down. All efforts made by the late pharmacist to ensure the other factory was reopened was abortive.
One of the children of the deceased, Mr. Femi Okunlola, 33, a manager with an oil and gas company, who spoke with P.M.NEWS on behalf of his family, said his father lived in Lagos with his wife while his other four children were based abroad. According to the burial programme released by his family, there will be a wake on 14 November, 2012. He will be buried 16 November, 2012 at Ikoyi Cemetery, Lagos.
Okunlola had worked briefly with Boots Pharmaceutical Company, London and when he returned to Nigeria, joined Pfizer Pharmaceutical Company before he established  Barewa Pharmaceutical Company.
—Akin Kuponiyi