Washington (AFP) Americans today decide whether to re-elect President Barack Obama despite a plodding economy or to trust Mitt Romney to restore prosperity, in a close fought vote unlikely to heal a polarized nation.
Democrat Obama, 51, leads his Republican foe by a whisker heading into polling day as he seeks to defy historical precedent that suggests incumbent presidents fail to win a second four-year term at times of high unemployment.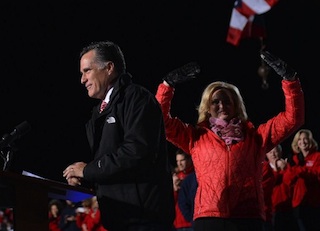 Romney, 65, a former Massachusetts governor blasted by critics as a rich plutocrat indifferent to middle class pain, would make history as the first Mormon president and promises to ignite economic growth and job creation.
Both men, exhausted by the last manic Monday of a campaign that has raged for two years, made their final, heartfelt plea to voters in late night rallies attended by fervent supporters.
"Tomorrow, from the granite of New Hampshire to the Rockies of Colorado, from the coastlines of Florida, to Virginia's rolling hills, from the valleys of Ohio to these Iowa fields, we will keep America moving forward," Obama said.
As he spoke in Iowa, the state that first nurtured his White House dreams in 2008, a single tear rolled down the president's face as he wrapped up what was — win or lose — his last-ever campaign event.
Romney put an exclamation mark on his campaign with his own, rowdy late night rally, at a sports arena in New Hampshire, capping the most expensive campaign season in US history, which cost $6 billion.
"Tomorrow is a moment to look into the future and imagine what we can do, to put that past four years behind us and build a new future," Romney said.
"Walk with me. Tomorrow, we begin a new tomorrow."
Voters are not solely picking a president for the next four years on Tuesday.
They will also cast judgment on a third of the Democratic-led Senate and the entire Republican-run House of Representatives. But with neither chamber expected to change hands, the current political gridlock will likely linger.
In a quaint slice of Americana, the people of the hamlet of Dixville Notch, in northern New Hampshire, played their traditional roll of casting the first votes in the election as the clock struck midnight.
And in a possible precursor of the tight race to come, Obama and Romney were tied at five votes, a historic first.
A dispiriting, negative, White House race, so different from Obama's euphoric change crusade of 2008, produced the election both sides expected — a down-to-the wire scrap for thin victory margins in a clutch of swing states.
Obama, America's first African American president, on Tuesday led by the slimmest of margins in averages of national polls, which measure the likely popular vote, possibly helped by his leadership during superstorm Sandy.
The president's polling leads in battleground states also stirred a quiet confidence in his campaign team.
Romney aides, however, predicted a surge of enthusiasm for the Republican would confound state polls, which they said overestimated the likely Democratic turnout and did not register the undercurrent of antipathy for Obama.
The central message of Obama's campaign has been that he saved America from a second Great Depression after the economy was on the brink of collapse when he took over from president George W. Bush in 2009.
He claims credit for ending the war in Iraq, saving the US auto industry, killing Osama bin Laden, offering almost every American health insurance, and passing the most sweeping Wall Street reform in decades.
Striking a populist theme, Obama said he would not rest until every American got a "fair shot" in an economy not controlled by the rich, and with a negative advertising barrage sought to disqualify Romney as a potential president.
Romney sought to mine frustration with the slow pace of economic recovery and argued that the president was out of ideas and had no clue how to create jobs, with unemployment at 7.9 percent and millions out of work.
No president since World War II has been elected with the unemployment rate above 7.4 percent, and Obama is hoping to avoid the fate of a host of European leaders who paid for the economic crisis with their jobs.
It appears that the US economy, the top issue in voters' minds, is neither so bad that Obama is inevitably doomed, nor so good that the president is safe, leading to a nervous night on Tuesday as results come in.
US elections are not directly decided by the popular vote, but require candidates to pile up a majority — 270 — of 538 electoral votes from the 50 states and Washington, DC, calculated indirectly on the basis of population.
A candidate can therefore win the nationwide popular vote and still be deprived of the presidency by falling short in the Electoral College.
Obama seems to be clinging on to a last line of defense in the Midwestern states of Ohio, Wisconsin and Iowa, which would, in conjunction with safe Democratic states, guarantee him re-election.
In poll averages calculated by the RealClearPolitics website, Obama led in Iowa (by 2.4 percent), Ohio (2.9 percent), Wisconsin (4.2 percent), Virginia (0.3 percent), New Hampshire (2.0 percent), and Colorado (1.5 percent).
Romney led by 1.5 percent in the biggest swing state, Florida, and in North Carolina, which Obama won by just three percent, or 14,000 votes, in 2008.
Voters will also weigh in on more than 170 state-wide ballots for everything from gay marriage to marijuana and abortion to electoral maps.
Florida will vote on banning funding for abortions or insurance covering the service, while Maine could legalize same-sex marriage. Three states — Oregon, Washington and Colorado — will vote on totally legalizing marijuana.