An ICPC investigator, Mr Basil Momodu, on Wednesday told an Abuja High Court, Maitama, that an accused, Emeka Ebila, forged documents certifying that three fake companies executed contracts, worth N107 million.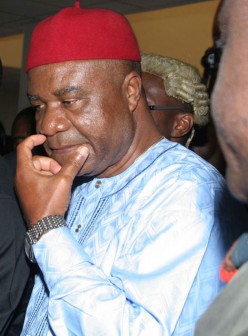 Momodu, a prosecution witness in the ongoing trial of the former PDP Chairman, Vincent Ogbulafor, also told the court that the fake companies were included in the list of contractors being owed money by the Federal Government.
Ogbulafor and Ebila are being prosecuted by the ICPC on a 16-count charge of alleged involvement in N170 million contract fraud.
The ICPC alleged that Ogbulafor, while in office as the Minister of Special Duties in 2001, colluded with Ebila to float three fictitious companies, Chekwas International Nigeria Ltd, Henrichko Nig Ltd and D.H.L. Consultants,  with which they perpetrated the fraud.
Momodu, who was led in evidence by ICPC counsel, Chief Adegboyega Awomolo (SAN), told the court that Ebila used the companies to siphon N82.6 million, N11.5 million and N6.2 million in 2001.
The witness also told the court that investigations by the ICPC further revealed that the companies were not genuine contractors of the Federal Government and were not being owed money.
Momodu, who told the court that he took six statements from Ebila, said that at first, the accused denied any involvement in the alleged contract scam.
"After we confronted him with the evidence we had, he opened up and admitted collecting the money and sharing same.
"He told me in the statement that the first accused (Ogbuafor) got N30 million from the deal, Emmanuel Bossah, a deceased director in the Ministry of Finance, got N54 million.
"He also wrote in the statement that one Chief Jude Nwokolo, an associate of Ogbulafor, got N6.5 million.
"The second accused also told me in the statement that his share of the money was N4.7 million," he said.
Momodu alleged that Ogbulafor used his position as minister, supervising the National Economic Intelligence Committee (NEIC) to make Ebila, a member of a committee verifying contractors.
"When he was invited to the ICPC headquarters and confronted with the evidence we had, he wrote a statement, saying that he did not receive any money.
"When we showed him a bank draft made out in his name for the sum of N2 million, he asked us for some time to confirm from his bank.
"On April 24, 2006, he came back and confirmed the receipt of only N2 and not N30 million," he said.
When Awomolo sought to tender a copy of the report prepared by NEIC with names of local and foreign contractors being owed, counsel to Ogbulafor, Chief John Egwuonwu, raised an objection.
Egwuonwu said the document Awomolo sought to tender was not certified and did not have any Federal Government stamp.
Following the objection, Awomolo withdrew the documents and sought for an adjournment to enable him to get it certified and stamped.
Justice Ishaq Bello adjourned further hearing to 26 November.