CIA Director David Petraeus resigned Friday because of an extramarital affair,with his biographer, Paula Broadwell, bringing an end to a brilliant career that included pivotal roles as a military commander in US wars in Iraq and Afghanistan.
"After being married for over 37 years, I showed extremely poor judgment by engaging in an extramarital affair," Petraeus said in a message to CIA staff. "Such behavior is unacceptable, both as a husband and as the leader of an organization such as ours."
Michael Morell, Petraeus's deputy at the US spy agency, will serve as acting director. President Barack Obama expressed his "utmost confidence" in Morell's leadership at the CIA.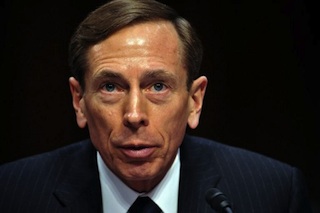 Petraeus, 60, took over the helm of the Central Intelligence Agency just over a year ago in September 2011 after retiring as a four star US Army general, easily the most celebrated military leader of his generation.
He was credited by some with rescuing a failing US war in Afghanistan in 2007, after then president George W. Bush ordered a surge of US forces into the country.
Obama later turned to him to lead a similar surge in US forces in Afghanistan in 2010, leaving a top post as commander of all US forces in the Middle East to do so.
As Obama moved to draw down US forces from Afghanistan, Petraeus moved to the CIA last year at a time when the agency was heavily involved in a drone war against insurgents in Pakistan and Yemen.
Obama accepted the CIA chief's resignation after meeting with him on Thursday, but hailed his "extraordinary service."
"By any measure, he was one of the outstanding general officers of his generation, helping our military adapt to new challenges, and leading our men and women in uniform through a remarkable period of service in Iraq and Afghanistan, where he helped our nation put those wars on a path to a responsible end."
Director of National Intelligence James Clapper lamented the "loss of one of our nation's most respected public servants."
According to online reports, the CIA's chief's affair with his biographer, Paula Broadwell, was discovered during an FBI investigation, according to officials briefed on the developments.
They spoke on condition of anonymity because they were not authorized to publicly discuss the matter. Petraeus carried on the affair with his biographer, according to several US officials with knowledge of the situation. They spoke anonymously because they were not authorized to discuss the investigation that led to the resignation publicly.
The FBI discovered the relationship by monitoring Petraeus' emails, after being alerted Broadwell may have had access to his personal email account, two of the officials said. Broadwell did not respond to voice mail or email messages seeking comment.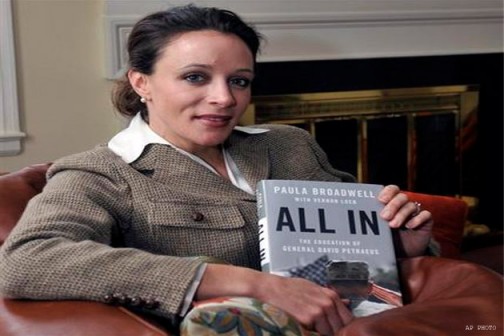 Paula Broadwell was the valedictorian of her high school class and homecoming queen, a fitness champion at West Point with a graduate degree from Harvard, and a model for a machine gun manufacturer, a report in The New York Times said. Broadwell was hardly shy about her interactions with Petraeus as she promoted her book, 'All In: The Education of General David Petraeus', in media appearances earlier in 2012. She had unusual access, she noted in promotional appearances, taping many of her interviews for her book while running six-minute miles with Petraeus in the thin mountain air of Afghanistan.
According to her biography on the Penguin Speakers Bureau website, Paula Broadwell is a research associate at Harvard University's Center for Public Leadership and a Ph.D. candidate in the Department of War Studies, King's College London. She also has a passion for leadership and security policies.
Her Twitter description on Twitter says, "Author (All In: The Education of Gen David Petraeus); National Security Analyst; Army Vet; Women's Rights Activist; Runner/Skier/Surfer; Wife; Mom!"
with reports AFP and IBNLive.in.com