Dr. Abubakar Olusola Saraki, father of the former governor of Kwara state and a political titan in Nigeria, is dead.
He died in Lagos today. He was aged 79.
He was born on the 17th of May, 1933 at Ilorin, Kwara State.His mother was from Iseyin in Oyo State and his father was from Ilorin. His paternal ancestors were Fulanis who came from Mali about 150 to 200 years earlier. He was educated at Eko Boys High School and attended the University of London, and St George's Hospital Medical School, London. He worked as a medical officer at the General Hospital, Lagos and the Creek Hospital, Lagos.
He first entered politics when he ran in the 1964 parliamentary election for Ilorin as an independent, but failed to win.
After the election, he returned to his medical practice in Lagos, only returning to party-politics in 1978/79.
Saraki played a prominent role in Nigeria's Second Republic politics and until his recent ill-health, was an influential factor in the new democracy that began in 1999.
In 1979, he contended for the presidential slot of the National Party of Nigeria and when he could not clinch it, he emerged the Senator representing Kwara Central.
He was appointed the Senate Leader, a position that he used to build bridges of understanding with the vibrant opposition Unity Party of Nigeria and the Great Nigeria Peoples party.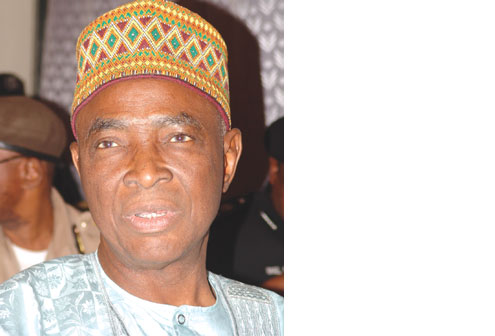 His biggest influence was felt more in Kwara state, where he had been a constant determiner of who should be the governor of the state.
In 1979, he singlehandedly installed the state's first governor, Adamu Attah.
When both men fell out, he played a decisive role in ensuring victory in 1983 for Cornelius Adebayo, the candidate of the Unity Party of Nigeria.
History repeated itself in 1999, when Saraki also believably installed another governor, Muhammed Lawal. Both belonged to the All Nigeria People's Party, of which Saraki was a member of the Board of Trustees and a National Leader.
His influence also extended to Kogi state, as his party also won the election there.
History however repeated itself in Kwara politics in 2003, as Saraki, just like in 1983 fell out with his godson, Lawal.
Saraki thereafter demonstrated that he was the supremo of the Kwara political turf as he staged a double political act. He installed his son, Bukola Saraki as the governor of the state and his daughter, Gbemisola as a senator, under a new political platform, the Peoples Democratic Party. Bukola became governor of the state and won a second term in 2007.
History did not favour the old man the third time in 2011, when his attempt to instal Gbemisola as Bukola's successor failed abysmally, having had to contend with the strong opposition of his son who had a different agenda.
Gbemi in the three horse race in the state, came a distant third to the incumbent governor, Abdulfatah Ahmed and Belgore of the Action Congress of Nigeria.
Saraki largely recorded successes in politics, but he had sour experiences with his romance with banking. As the promoter of Societe Generale Bank in Nigeria, Saraki first of all had to wrestle legally for control with a long friend, Kotoye. He got the bank bank but in 2003, the bank of which he was chairman was investigated by the National Drug Law Enforcement Agency for alleged money laundering.
Later, SGBN was investigated by the Economic and Financial Crimes Commission (EFCC) under Nuhu Ribadu, and its license was suspended.
The license was restored last year, but till now, the bank has not restarted business.