Ivory Coast President Alassane Ouattara on Wednesday dissolved the government formed in March and charged with reviving the country after the political-military crisis of 2010-2011, the presidency said.
"The president announced the dissolution of the government this morning in a cabinet meeting," the presidency said Wednesday, without providing further details.
The head of the president's office, Amadou Gon Coulibaly, was to meet journalists at the presidential palace.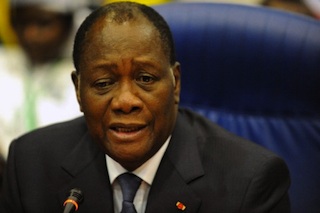 The outgoing government, formed on March 13, was led by prime minister Jeannot Kouadio Ahoussou who also served as justice minister. He was a member of the PDCI party, a major ally of Ouattara.
In the previous government, Ouattara took the defence portfolio himself, marking his intention to reform the armed forces following the divisive conflict.
The country's previous ruler, Laurent Gbagbo, refused to step down after his long-time rival Ouattara was declared the winner of the November 2010 presidential election.
The ensuing conflict cost 3,000 lives before Gbagbo was captured. He is now awaiting trial for crimes against humanity at the International Criminal Court in The Hague.
Since Ouattara came to power, there have been a number of deadly attacks inside Ivory Coast, which Ivory Coast has blamed on Gbagbo supporters.

Load more