Olaolu, son of the Second Republic Senate Leader, Dr. Olusola Saraki, said in Lagos on Wednesday that his father died of cancer.
"He has been battling cancer for about five years. He was fine this morning. He was comfortable and even said his prayers. He died in the presence of one of my brothers, my mother and my two sisters," Olaolu told newsmen at his father's residence on Cameron Road, Ikoyi. He gave up the ghost at about 6 a.m.," he said.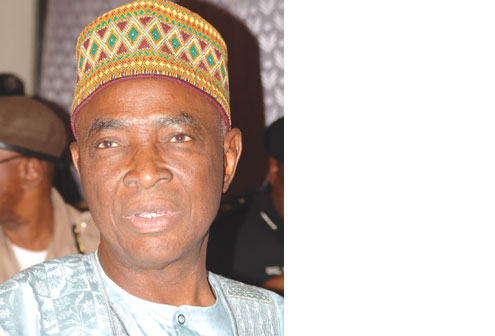 Meanwhile, ACN leader Bola Ahmed Tinubu has described the late Saraki as a statesman of immense character.
"Saraki was a national hero to many of us in this country and had greatly contributed to the freedom and political emancipation of Nigerian democracy," said Tinubu, who spoke with newsmen at the Saraki residence in Lagos.
"His death came as a shock but he has lived a very fulfilling life. His death is a loss to the country."
Tinubu said that the country should learn Saraki's political strategy and maturity.
"The ability to create a political platform that endures is part of his legacies. He understood the country's political terrain so much and that made him contribute greatly to the evolution of democracy and sustenance of welfare programmes.
"We have lost a man of immense political strategy at the time Nigeria needs to promote and further our democratisation in a free and fair election that will elect true leaders.
In its reaction, the South West Chapter of the Conference of Nigerian Political Parties (CNPP) described Saraki's death as a tremendous loss to the nation and Kwara.
The South West Secretary of the CNPP, Mr. Austin Nnorom, told the News Agency of Nigeria (NAN) that "the late Saraki was a nationalist".
"A vacuum has been created by his death," he said.
Following his death,many Nigerians have been visiting his Lagos residence to pay their tributes. Early callers to the residence include his son, Senator Bukola Saraki,
Chief Molade Okoya-Thomas, Mohammed Dele Belgore (SAN) Action Congress of Nigeria, ACN governorship candidate in Kwara State in the 2011 election; Alhaji Lai Mohammed, ACN National Publicity Secretary and former Ekiti State governor, Chief Niyi Adebayo.
In his tribute, Belgore wrote in the condolence register: "Oloye was the father of Kwara politics and the history of Kwara will never be complete without the inclusion of his towering influence.
"His death is a great loss to Kwara State and Nigeria. May his soul rest in peace."
Alhaji Lai Mohammed wrote: "A true colosus has passed on. A man who politically defined his era, a political strategist. May Allah receive you in Aljanah Fidau."
Otunba Niyi Adebayo wrote: "Oloye, you bestrode the political landscape like a colosus. You are a great politician and a great Nigerian. You spawned a newbreed of politicians to carry on with your legacy. Nigeria will surely miss you. May your soul rest in perfect peace."
Another early caller to the residence, Chief Molade Okoya-Thomas wrote: "My other father and mentor, rest in peace."
In his own reaction, Lagos lawyer and activist, Wahab Shittu, said, "Olusola Saraki was a political colossus who used his entire life pursuing politics for the development of his people.
"His life was a story in politics and political engineering. He can never be forgotten in the political history of Nigeria, Kwara State in particular."
Another lawyer, Barrister Ade Oyebanji said, "No doubt about it, Kwara State and Nigeria as a whole has lost an illustrious son.
"His exit has created a political vacuum in Kwara State that will be difficult to fill. May his soul rest in peace."
The Speaker of the House of Representatives, Aminu Tambuwal, has described the late Dr. Olusola Saraki as a quintessential politician and father figure, who gave his all for the development of Nigeria.
The speaker's message was issued by Malam Imam Imam, his Special Adviser on Media and Public Affairs, in Abuja on Wednesday.
Tambuwal said Saraki earned his place as one of Nigeria's most consistent advocates of democracy and would be best remembered for his pioneering role in the formation of leading political parties.
He said the effort led to the establishment of National Party of Nigeria (NPN) in the Second Republic as well as All Peoples Party, now ANPP.
Tambuwal said as the Senate Leader in the Second Republic, Saraki with his colleagues worked assiduously to entrench parliamentary democracy by putting national interest above personal and other parochial interests.
The speaker urged Nigerians to emulate Saraki's virtues of dedication, humility and compassion for the ordinary folks.
Also, the Deputy Senate President, Senator Ike Ekweremadu described the death of the former Senate Leader "as the exit of a people's democrat".
He said the late politician was a people-centred leader, who "lived for the people, politicked for the people and was totally and consistently committed to the people''.
Ekweremadu said Saraki's death was a great loss to the nation, considering that he distinguished himself as one of the most charismatic and vibrant Senate leaders in Nigeria.
He said Saraki would forever be remembered in Nigerian politics for "promoting the philosophy of people's welfare as the crux of politics.''
He condoled with the people of Kwara and Saraki's family over the loss and urged members of the political class to emulate his brand of politics by positively impacting on the lives of the people.
Saraki died in Lagos at the age of 79 after a prolonged illness.