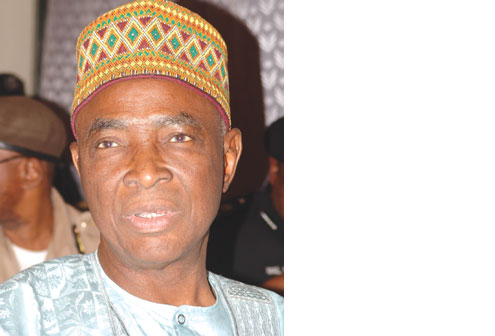 By Bayo Onanuga
All it takes to switch on Nigeria's burgeoning industry of paying condolences is for yet another big man to die.
From all corners of the country, condolences will pour in, like a rain of computer auto-responses all in praise of the dead, all bearing tales of how good he was as a patriotic Nigerian, as a nationalist of repute, as the maker of Nigeria, as a good father and grandfather, ad infinitum.
No one of the hordes of sympathizers will ever say anything negative, even if the person they are eulogizing had played some ignoble role in the affairs of our country while alive, not even if he had looted our treasury, after all in Nigeria, it is culturally incorrect to speak ill of any dead person,
But the way condolences are being paid in the country in recent weeks has become sickening in my view. Must we fall over each other when a person dies to sing eulogies, even if the eulogies are not reflective of the totality of the person who just died? This is one of the conundrums of the country called Nigeria: we love the gloss and shine, not the smudges and dirt of reality. We choose often to encase ourselves in a life, so unreal, so fraudulent, so full of pretense.
I think the death of anyone, should be a sober moment of reflection, about the life of the person, about the lessons the living can learn from such a life. It should not be an occasion for mindless songs of praise and panegyrics.
But Nigeria's political elites who are the big players in the industry of condolences behave otherwise. Perhaps they are doing so deliberately: they also want their survivors to speak glowingly about them when they are gone, despite their crass behavior now in being part of the gang destroying Nigeria and denying the coming generation of a better and prosperous nation.
Watchers of developments in Nigeria the past two weeks, with the deaths of Alhaji Lam Adesina, Dr. Abubakar Olusola Saraki and Justice Kayode Eso, will notice the trend that I write about, where the airwaves, the internet, the newspapers are jammed by effusions of sympathies by these powerful Nigerians, following a VIP's death. They seem to work like automatons, the way press releases are churned out bemoaning the death of these 'great men'.
I will cite the death of Dr. Olusola Saraki's, the man variously known as the strongman of Kwara politics and the Godfather to illustrate what I consider to be a worrying trend.
Saraki died in Lagos after a long battle with cancer. While alive, he ran a modern-day fiefdom in Kwara state, such that he was the undisputed king and millions of Kwarans his serfs or slaves. By means of political manipulation, he was able to control the affairs of the state, even determined who became the governor, until his son stopped him in 2011. Under the regime of Mohammed Lawal, we heard stories of the man collecting a percentage of the state allocation, the money he used largely in feeding the poor of Ilorin and anyone ready to grovel for his attention or worship him.
Also while alive, Saraki had his bank's license withdrawn over money laundering allegations. Just imagine the thousands of depositors who because they could not retrieve their savings, committed suicide. Regardless of this economic offence, Saraki's political stranglehold was not affected, as he even boasted that 'anywhere he goes, Kwara goes'.
When Saraki died, one expected at least one of the legions of condolence-sayers to address these negatives about his life and thank God, at least that Kwarans have gotten freedom from one redoubtable master.
But no. Nigerians never speak ill of the dead. Oh yes, it is culturally incorrect, according to the ruling class!
From President Jonathan to National Assembly leaders and state governors, even opposition politicians, Olusola Saraki became the quintessential politician, the paragon Nigerian nationalist, the peerless patriot and so on. So much was the man praised to high heavens that a visitor to Nigeria would think that we were celebrating the passage of Saint Saraki.
The President in his condolences even described Saraki as a democrat. Really? Don't these leaders ever subject their statements to some reality, fact checks? Did Saraki so much believe in the ballot box that he allowed the people's vote to count in Kwara state?
Here is the full text of the President's condolence message: "President Goodluck Ebele Jonathan joins all Nigerians in mourning one of Nigeria's most prominent political leaders, medical practitioner and democrat, Dr. Abubakar Olusola Saraki who passed away in Lagos this morning.
"President Jonathan extends sincere commiserations to the elder statesman's family and the people of his home state, Kwara to whose service and upliftment he selflessly devoted his long and very successful career in politics.
"He urges them to be consoled by the knowledge that their departed father, leader and mentor lived a very successful and fulfilled life, rising to national prominence by dint of hard work, uncommon generosity, political sagacity, dedication and wholesome commitment to the service of his people and the entire nation.
"President Jonathan believes that the late Dr. Saraki will be long remembered and eulogized as a consummate politician, an astute grassroots mobiliser, and a political colossus with awe-inspiring powers of political organization.
"The President has no doubts that this public-spirited politician will always occupy a place of honor in the hearts of his people, supporters, friends and associates across the nation.
"He believes that the ordinary people of Kwara in particular will always remember the "Oloye" with great affection because of the constant support they received from him.
"The President further notes that Dr. Saraki's brand of people-oriented politics and his success in building on his strong support base to contribute positively to Nigeria's political development as a powerful voice in the nation's dominant political parties, as the Senate Majority Leader in the Second Republic, and as the ultimate reference point in the politics of Kwara state for decades, have assured him of a place amongst Nigeria's heroes of democracy.
"President Jonathan urges Nigerians to emulate Dr Saraki's patriotic commitment to national unity, politics without bitterness as well as his magnificent spirit of philanthropy."
The president's condolence was typical of the streams of messages published after Saraki's death.
But on the contrary, Nigerians occupying the democratic space on the net have a different view about the man who just passed away.
One commentator said: "Live a good life so you can die and meet your God without regrets. Make hay while the sun shines…that way you will not depend on the likes of Olushola Saraki and his children for your daily bread. Several years after they ran SGBN aground, they are still living large while the depositors are counting their losses; many of them are already dead. Sola will go there to meet with them and only God knows the kind of reception they will give to him on arrival."
Another who claimed to be a Kwaran wrote: Alhamdulillah, GOD has been so merciful to the good people of KWARA STATE that the first and only enemy of KWARA INDIGENES is gone, GOD we thank you for liberating us from the claws of the enemy of the state".
Yet another wrote: "AT LAST, 
All our selfish leaders should get prepared for their death…. 
Saraki, no more allocation from LG funds! Saraki… where are you today? 
 Saraki, no more
, life is nothing!"
Of course, such views will neither find space in the newspapers nor will they find airtime on radio or television. But they represent the issues usually skirted by professional condolence sayers.
Nigerians can be very sycophantic of power wielders; must we do the same for the dead? Shouldn't we begin to tell the dead, the truth about their time here on earth?
.Bayo Onanuga is the editor-in-chief of TheNEWS magazine and P.M.NEWS