King Abdullah of Saudi Arabia, 89, has "successfully" undergone a new operation on his back, the royal cabinet announced Sunday.
The operation, to correct "a ligamentary slackening in the upper back" of the elderly monarch, ended at dawn on Sunday, said a statement quoted by the official SPA news agency.
The sovereign had already undergone a similar operation in October last year.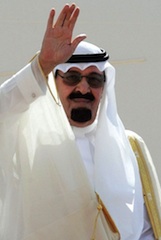 In November 2010 he was operated on in New York for a slipped disc complicated by a blood clot that put pressure on his spine, and underwent a further operation the following month before convalescing for a month in Morocco.
The king's age and his frequent hospitalisations regularly feed rumours about the future leadership of the kingdom, a key player in the Middle East and the world's top oil exporter.
The king's half-brother Prince Salman, 76, was named crown prince in June after the death of Prince Nayef bin Abdul Aziz.