If there is a fabric that has effectively sold the African culture to the rest of the world, it is Ankara and the reasons are multifarious and diverse.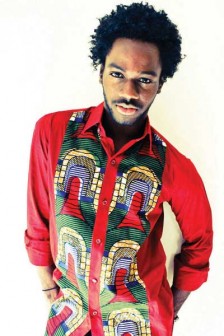 Ever since its emergence on the fashion and beauty scene  in the early 90s, the versatility of Ankara has always attracted designers to work wonders with the colourful fabrics. It has over the years attracted the attention of top designers abroad who are now including it in their clothing lines.
Ankara fabric is no longer a new concept but it has not lost its appeal among fashionistas. The craze for Ankara designs does not end among the high and the lowly in the society. Every season, there are improved, innovative and glamorous designs for both men and women for formal and casual outings.
Arguably, the trend is no longer an African thing. Hot international labels are using the fabric to develop an afrocentric trend (African inspired clothing designs), fusing African culture with other cultures around the world through their choice of materials and designs for their clothing, shoes and bag lines. International celebrities including Alicia Keys, Beyonce, Solange Knowles, Lady Gaga, Rihanna, Kim Kardarshian and Nas, among others have been spotted wearing these designs.
The versatile Ankara fabric has been tested successfully by designers and they are not short of ideas on what they can do with it, from mixing and matching different Ankara prints to using them with beads  and other fabrics including chiffon, linen, silk, taffeta, clothing coupons and even lace among others as embellishments to create unconventional but fabulous designs.
The major factors that work for the fabric are its texture and colourful bold designs.  Most Ankara prints are made out of very fine cotton that is not only good for the African sun but can be cut to hug and drape well on every curve. And because it has become a fashion phenomenon in this part of the world, some print Ankara patterns on silk, satin, jersey and all kinds of fabrics, to recreate fashion accessories like shoes, slippers, bags, purses, wristbands, bangles, earrings, wristwatch straps and many others.
Uduak Oduok of ladybrilleblogazine.com believes that it is inspirational the way designers take the fabric to the extreme and come up with innovative designs that take wearers out of the box in grand style. Trendy styles made with Ankara now include jackets that are often paired with skinny jeans, waist coats, pants, hot pants, crop pants and tops as well cocktail dresses.
However, a fashion designer and owner of the fashion brand FERON, Feron Felix Aaron, says that though Ankara  fabric will always be around, the clothing trend is not sustainable, advising designers not to build their brands on it.
Aaron who runs a fashion academy said: "There is what we call circle of fashion. The Ankara trend is at its peak and people will soon get tired of it and crave for something new. In fact, it is getting to that point. That is why designers are introducing new concepts to sustain people's interest."
Aaron explained that, "fashion is about creating class and Ankara trend has no class distinction, thus it can not be sustained in the mainstream fashion".
But at this point when Ankara trend is making waves on the international scene and still doing well at home, there are so many ways the fabric is being created to meet individual needs and tastes.
Thus the clothing design is still great for anyone who wants to make a fashion statement. All it takes is to pick the appropriate style that fits one body type and combine it with complementary accessories before stepping out. And if there is a need for  you to use handmade ankara accessories, go for  the colours and patterns that  suit your outfit.