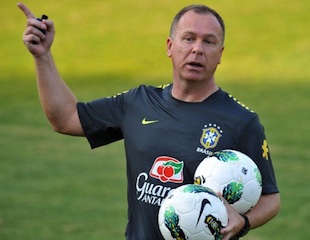 Brazil are set to delve back into their glorious past by re-appointing 2002 World Cup-winning coach Felipe Scolari to deliver further success on home soil in 2014, the country's media reported on Tuesday.
The Brazilian Football Confederation (CBF) sacked Mano Menezes last week after just two years in the job, with the Selecao having lost in the quarter-finals of last year's Copa America and then going down to Mexico in the Olympic final in London.
Although one CBF director, Andres Sanches, has spoken out against the decision to fire Menezes, whom he insisted was leading the squad along the right track, pressure was mounting for fresh impetus — but only from a home-grown manager.
That would rule out the likes of former Barcelona coach Pep Guardiola — currently on sabbatical in New York — with CBF chairman Jose Maria Marin on record as saying that a Brazilian ought to be found who knows exactly what the job entails.
His comments have fuelled speculation that 64-year-old Scolari, who recently parted company with Palmeiras and who says he will not speak on the issue before the domestic league ends next weekend, will be given a second crack of the whip.
Asked about potential choices and having previously said he would wait until January before deciding on his man, Marin said: "I have faith in our Brazilian coaches.
"We won five (world) titles with them. That's why it would be very difficult to call in a foreigner," A Folha de Sao Paulo newspaper quoted Marin as saying.
On Manezes and Sanches' support for the man who failed to live up to the CBF's demanding requirements, Marin said the organisation had to move on swiftly.
"The past is the past — we must now think of the future," he said.
A Folha said that means bringing back "Big Phil": the Lance sports daily added that CFB vice-chairman Marco Polo Del Nero had also come round to that view.
"We do have other Brazilian coaches to take the helm (for the Confederations Cup which Brazil host) in 2013 and (the World Cup) in 2014 but I don't think bringing in foreigner would solve the problems," he was quoted as saying.
Five-times world champions Brazil are eager that the new man should use the Confederations Cup to blood new stars as they prepare for the tournament that matters most to the auriverde — a first World Cup in the country since 1950.
In his first stint, Scolari was forgiven for a pale Confederations Cup showing in 2001 after he led the Selecao to World Cup glory in Japan the following year.
He later coached Portugal and led them to the final of Euro 2004 on home soil before a disastrous spell with Chelsea in 2008.

Load more