BAGEGA,Zamfara state, Nigeria — Neighboring a hillside laced with gold, parents in this remote village live with an impossible choice: Should they risk starving their children today? Or expose them to toxins that could cripple or kill them tomorrow?
Miles from the nearest paved road, electrical socket or internet connection, Bagega is in a region of northern Nigeria that is rich with gold, but suffering from what activists call the "worst lead poisoning crisis in recorded history."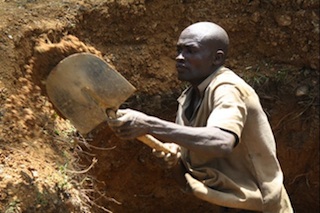 Independent, small-scale gold miners working in processing plants about 10 minutes from the village by motorcycle, crush rocks to extract flecks of gold, releasing dust laden with lead. Hundreds of children in the region have already died since the mining increased dramatically about four years ago. Thousands more have been left disabled. Still thousands more continue to be exposed everyday.
While Nigeria's government has already put enough money aside to clean up this village, virtually none of it has reached the people. Aid workers say the money is "caught up in the bureaucracy." And, they say, if it's not put to use soon, the whole project will have to be postponed a full year, until the next dry season.
In June, the federal government pledged more than $4 million to clean up Bagega, a process called "remediation," which replaces toxic dirt with clean dirt. But after months of conferences, meetings, promises and press releases, the money is nowhere to be seen, said Ivan Gayton, head of Doctors Without Borders in Nigeria.
When government officials are asked where the money is, the response is mixed. Some officials say the cleanup is already happening and others demand it begin immediately.
Doctors Without Borders says it visits Bagega regularly and is in close contact with village leaders, but has yet to see or hear anything about the clean up beginning. For the village children, Gayton said, the delay in remediation could be disastrous. If they treat children now, they will only be re-contaminated.
"Many hundreds or even thousands of children are desperately awaiting treatment," Gayton said. "But there's absolutely nothing we can do until the remediation is done."
Behind a cracked stone wall here, in a compound amid a cluster of mud huts, Halima, the grandmother of more than 30 children, squatted over a bucket of greens, breaking off leaves for dinner. She said she has lost eight grandchildren to lead poisoning already. Nearly three years after the outbreak began, she laughed when asked if anyone will come to the rescue.
"There hasn't been any help up until now," she said. "People came to talk to us, but they won't do anything."
Bagega is one of eight villages to be identified in the epicenter of the outbreak. The seven other nearby villages have already been cleaned up, allowing for doctors to treat the children. When environmental cleaners got to Bagega, the project ran out of money. Bulldozers were parked outside the village, so the story goes, and when workers went to fill them with gas, they were told the funds were gone.
Gayton said that in some of the cleaned up villages, children continue to get sick due to long-term exposure. But in others, many children have been cured and released from care.
In all the villages, Doctors Without Borders has found unprecedented levels of suffering due to lead poisoning.
"We screened children in villages where they had lost almost half the children and the remainder were convulsing and seizing," Gayton said. "You normally think of lead poisoning as creating brain damage, organ damage, developmental disabilities. Here we're talking [blood lead] concentration levels that cause seizure, coma, death."
The gold rush here in Zamfara State emerged in 2009, after a spike in the price of gold. Subsistence farmers that barely survived on $1 or $2 a day could suddenly make $15 or more every day. Miners say this money is the difference between just staying alive and having some money for transportation, health care and food.
Hassan Mousa, a miner and father of seven, lives miles from then nearest paved roads, electricity or cellphone service. Before he started mining, he said, his family was barely surviving.
"As a miner I can sometimes make more than 100,000 naira ($630) in only a week," he said as he crouched in a spec of shade against a clay wall. "As a farmer I made only 50,000 ($315) in a whole year."
The locals have always known about the gold here, but in the past it was difficult to make a profit selling small amounts. The price of gold on worldwide markets, however, has risen sharply over the past decade. About four years ago, word began to spread through rural villages that prices where high and buyers were waiting.
Many Zamfara farmers, like Mousa, dropped their hoes, picked up pick axes and began lowering themselves into deep pits to excavate rocks laden with lead and gold. Using hammers, they break the rocks apart before feeding the pebbles into electric flourmills to extract their prize.
Gold prices continue to soar after roughly two decades of stagnation and, for now, business at these low-tech operations is booming.
Nigeria's federal government seems to have other ideas. It passed a law in 2007 that transferred the rights to all mineral resources in Nigeria to the state. The government then sold Zamfara gold mineral titles to individuals, international and Nigerian companies. Zamfara state officials say, however, that the title owners have so far been slow to move because the mines are relatively small and villagers now occupy the land, and have for as long as anyone can remember.
But as the price of gold climbs, things are changing. No one knows exactly how much gold is in the state, but the independent miners are revealing stores that were previously unknown. Officials say title owners are getting anxious to dig and are pressing the government to shut down the artisanal mines.
If this were to happen, the ideal scenario would be for companies to move in and employ local miners at wages comparable to what they are now making. But community leaders here say at present, most miners have no legal rights and they fear their incomes will be snatched away.
Fear of losing access to the valuable minerals is also complicating efforts to prevent a health crisis. Federal officials say the mining is illegal. They refer to a law passed in 2007 that transfers all of Nigeria's mineral resources to the state. State officials, however, last month promised not to enforce any bans for the time being.
"We don't know who owns the mines here," said Hassan Haruna, the secretary of a local miner's association, at a gold mine surrounded by miles of forest and grazing lands. While he talked, workers crawled into craters from 5 to 50 feet deep with shovels. They used old plastic jerrycans, lowered with a rope, to fill with gold-laced gravel and rocks.
Miners are now organizing into cooperatives, he said, hoping to buy back the rights to the gold on their land before it's too late. If they can't obtain the legal rights, miners fear international corporations — which are already eyeing the profit potential — will push them out.
"We are doing it illegally," Haruna said. "We don't have any single paper to go and mine. But they told us to form an organization and we did that."
Haruna said the union was formed to help the miners navigate the bureaucracy as a group. Most live many miles from the nearest road and few have vehicles. For many Zamfara miners, traveling to the Nigerian capital to fill in the required paperwork would be as difficult as getting to China. Even as an organized group, he added, they have yet to figure out how to acquire the right documents.
Some miners don't even know that the federal government altered their traditional land-ownership structure, under which land and its resources are carefully divided between farming communities and cattle herders.
Aid workers here say people are hesitant to report lead poisoning to authorities or doctors for fear of losing their livelihoods.
For those still working the mines in Bagega, the increased income is a source of pride. On a good week, miners say they can make hundreds or even thousands of dollars. This isn't every week, one man confesses, and almost all the men are poor, living deep in the bush with no electricity or running water. Aid workers say those good weeks do happen, but miners actually average about $10 to $15 a day.
"Mining is just better than farming," Kaminu Ataka Bola said, while a crowd of colleagues gathered around him in solemn agreement. He has heard of lead poisoning, he added, but when asked if he feared for his children, he ignored the question.
Adults can get lead poisoning, but doctors say the damage is most dramatic for children under 5 years old. And while everyone who comes into contact with the lead should be tested and treated, in Zamfara State only the small children, and not even all of them, are getting help.
About a half hour from the mines by motorcycle, local gold processors dismissed the idea that mining causes lead poisoning. Under awnings made of sticks, some men crushed rocks with hammers, while other refined the smaller bits with flour-mills powered by small electric generators.
Dust billowed off the hammers and out of the machines, but workers said they weren't worried. Ole Ibrahim operated a grinding machine and said most men drink milk at the end of the day because it prevents lead poisoning. Doctors say this claim has no basis in medical science.
"We could use more modern machines," he added thoughtfully, as he scooped finely ground rocks into old rice sacks. "And face masks to protect us from the dust."
There appears to be little hope of that though, given the government's slow pace. At a recent meeting in the state capital, Gusau, local officials said a federal fact-finding mission was about to commence, despite the fact that the government pledged the money months ago.
If and when the funds are dispersed, getting the money from the ministries to the children could also be difficult in a country notorious for financial mismanagement and corruption, according to some activists.
Oludotun Babayemi, an adviser for the Nigerian Youth Climate Network, told the group that his organization plans to use social networking to "follow the money" if it becomes available, to make sure it gets to the right place.
But there is no Twitter, Facebook or even cellphone service in the poisoned villages, and activists say tracking government funds is a mammoth task even in the best of circumstances.
Parents in Bagega said modernization wouldn't cost much. Zamfara has rich farmland and gold, they say, so they wouldn't need long-term financial help from their government. All they want is a thorough clean up and some basic safety updates, like more modern grinding machines, protective clothing and showers to wash off the lead before they come home.
In the nearby village of Sumke, locals said these small changes and now regular lead poisoning treatment has helped their village begin to recover from a tragedy that impacted everyone in their community. The scars, however, remain.
"We've buried almost 85 children in our cemetery," said Issa Nagarkwa, as he sat under a bit of shade made out of branches and logs. Nagarkwa said he lost two of his five children when the outbreak began.
"They started convulsing," he said. "Within two minutes, they were dead."
.Written in two-parts by Heather Murdock for www.globalpost.com

Load more