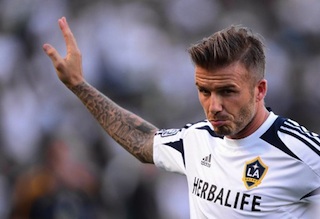 Australia's chances of luring David Beckham Down Under appear to be over, with the superstar footballer reportedly telling one club owner it was too far away for him to be able to manage his businesses.
Speculation about the 37-year-old heading to Australia's A-League ran hot last month after Football Federation Australia said it had been approached by his representatives.
The news sparked keen interest from several domestic clubs, with Perth Glory reportedly tabling a package worth almost US$2 million for the former Manchester United star to join them for a 10-match guest stint.
But Glory owner Tony Sage met with Beckham in London this week after the pair attended the opening of Viva Forever! — a stage show based on the songs of the Spice Girls — and was later quoted as saying the possibility of a deal was off.
"I got the chance to chat to David, and of course I asked him about coming to Australia," Sage told the Football Federation Australia website.
"He looked me in the eye and basically said, 'That would be nice, but it's too far away from my businesses'.
"It would have been great to have him at Perth Glory, but it looks like that won't be happening. I just don't think he'll be coming to Australia, full-stop."
The comments are a blow to the A-League, which has recently been boosted by several high-profile imports including Italian superstar Alessandro Del Piero who plays for Sydney FC.

Load more