Nigeria's revelation at this year's Governor's Cup, Kehinde Alade, told DAMILARE OKUNOLA why he thinks the dearth of tournaments has been advantageous to him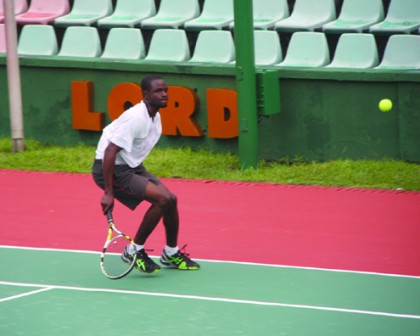 We learnt that you started playing tennis as a ball boy.
I actually started playing tennis before being a ball boy at the Lagos Lawn Tennis Club. I started when I was in JSS3 when my classmate then, Lanre Alayaki was always talking to me about tennis. I picked interest after much pressure from him and that was how I started at Alayaki's compound before becoming a ball boy at the tennis club.
So, how has the transition been?
Well, it hasn't been so rosy. I've had to battle many challenges since I started playing the game but I thank God for standing by me all the way.
What are some of the challenges you've been through?
They are too numerous. For example, when I first started playing tennis, my house was quite far from Alayaki's house and I had to always trek there, just to play. And when I had mastered the game, struggling to get to the top became another challenge for me but like I said, God has been my backbone all the way.
Does this mean that your parents never really supported you?
Not totally. My mom was in full support but my dad was averse to me playing tennis and this kind of discouraged me but I kept on playing since it's a game that I'm so passionate about.
So, how many circuits have been able to play?
There have been so many of them within and outside the country. I played a futures tournament in Venezuela, African Junior Championship in Botswana, where I was ranked 606 in the world junior ranking and a whole lot of local tournaments in the country and these have added to my wealth of experience over the years.
Definitely, you have a sponsor.
Yes. He's a white man, John Robinson whom I met at the Lagos Lawn Tennis Club. He's been so kind to me, helping me travel, especially facilitating my trip to South America and other places.
With your focus on Tennis, aren't you thinking of going to school?
I'm presently an HNDII PHE student of Yaba College of Technology.
How have you been able to combine education and tennis?
It's been pretty difficult and at times, quite easy. I've had to focus on one at a time and the dearth of tournament in Nigeria helps me to focus more on my education.
Does this mean that you're happy with the dearth of tournaments in the country?
Not at all. What I'm saying is that it has helped me in that aspect. Not having enough tournaments to participate in throughout the year is killing tennis in this country that's why our players aren't very fantastic.
You were Nigeria's revelation at this year's Governor's Cup, how were you able to do so well?
It's the second consecutive year that I qualified for the main draws but for me, I still think I need more training sessions and some other commitments to hit top gear. The Americans that I defeated underrated Nigerians and I made them pay for it.
Would you rate your personal feat at the Governor's Cup as your biggest achievement since you started playing tennis?
Certainly not. Playing in the final of the Men's Singles at the Ondo Gov's Cup is my biggest achievment till date. That I played against Sunday Emmanuel made it very memorable.
Is he your role model?
I'd say Sunday Emmanuel is my best Nigerian tennis player but Novak Djokovic is my role model because of his hard work and double-faced hand that he has, just like me.
What is your ambition?
I want to get to the highest level in the game of tennis. Like playing in Europe and other major world championships.
Your family background?
There are six of us and I'm the last child of my parents with my twin brother who's a student of Transport Management at the Ladoke Akintola University of Technology, LAUTECH, Ogbomoso. He's also showing interest in playing tennis but I think it's too late for him to start.
Don't tell me you don't have a girlfriend.
(Smiles)…of course, I have and she has been very supportive.

Load more