Across the world, most people waited to see a fulfilment of the ancient prophecy, wondering how the world would go in a bang. But nothing happened.
The doomsday hysteria had been a waste of time: it was just an expensive joke, concocted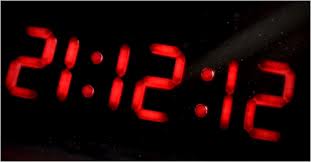 to fool the world.
As the AFP reported, in many parts of the world, doomsayers hunkered down to await the coming apocalypse on Friday, but most took a lighthearted view of a Mayan "prophecy" of the world's destruction, laying on stunts and parties to while away the end.
Thousands gathered at the majestic Mayan ruins of Tikal in the jungles of present-day Guatemala to await a fiery climax to the ancient civilisation's "Long Count" calendar, which points to an era of more than 5,000 years ending.
Australia was one of the first countries to see the sun rise on December 21, supposedly the end of days, and Tourism Australia's Facebook page was bombarded with posts asking if anyone had survived Down Under.
"Yes, we're alive," the organisation responded to fretting users.
Tongue-in-cheek scientists in Taiwan planted an electronic countdown timer atop a two-storey replica of a Mayan pyramid, drawing crowds at the National Museum of Natural Science.
Seven-year-old Wang Si-shien was unimpressed. "I'm not scared at all," she said as she visited the museum with her school class.
Australian Prime Minister Julia Gillard set the tone this month with a spoof video address, vowing to keep fighting however the end comes, whether "from flesh-eating zombies, demonic hell-beasts or from the total triumph of K-Pop".
Indeed, some argued online that an impending milestone for the "Gangnam Style" video of South Korean rapper Psy — one billion views on YouTube — was itself a harbinger of doom, enlisting a fake Nostradamus verse in their cause.
Across Asia, Europe and North America, many planned to party like there's no tomorrow with apocalypse-themed dinners and pub nights.
Hong Kong's Aqua restaurant promised to pick up the tab for its HK$2,112.12 ($273) six-course meal if the end is nigh — though patrons will have to stump up if still alive at midnight.
If the world does end, Chinese furniture maker Liu Qiyuan has his own safe haven, a fibre-glass pod he designed that can carry up to 30 people and withstand towering tsunamis and devastating earthquakes.
UFO enthusiasts were gathering in the southern Chinese province of Hunan to perform a "Mayan ritual" to attract alien visitors, the state-run Global Times reported.
But there has also been a darker side in China, with authorities arresting some 1,000 people in a crackdown on a Christian sect that spread doomsday rumours.
Over the centuries, the end of the world has been predicted countless times, from the early Christians to controversial US pastor Harold Camping last year.
At the Tikal ruins, actors in costumes and head-dresses staged elaborate dances to a mournful pan-pipe tune ahead of the apocalypse supposedly foreseen by the Mayans, who reached their peak of power in modern-day Mexico and parts of Central America between the years 250 and 900 AD.
Thousands more people were expected to flock to another set of Mayan ruins at Chichen Itza in Mexico before daybreak Friday — some to hail the start of a new Mayan era, others to bid farewell to the world.
Even though Mexican officials said no special celebrations were planned to mark the turn of the Mayan calendar, which coincides with the winter solstice, up to 20,000 revellers were awaited at the site's pyramids.
US space agency NASA has been contacted by thousands of worried people asking what to do. In a web page devoted to debunking the Mayan prophecies, it reassured them that the world will not end in 2012.
"Our planet has been getting along just fine for more than four billion years, and credible scientists worldwide know of no threat associated with 2012," it said.
NASA's words were lost on those who headed to a number of towns around the world designated safe zones from the impending disaster, and others who took refuge in mountains or bunkers, or stockpiled guns and survival kits.
The village of Sirince in western Turkey has become a magnet — it is reputed to be doomsday-proof because the Virgin Mary is said to have risen to heaven from there.
Likewise the southern Italian village of Cisternino, singled out by an Indian guru as a safe bet come the end of the world.
The December 21 mystery stems from a carved stone found in Tortuguero, a Mayan site in Mexico. The relief contains a cryptic allusion to something really big happening on Friday.
However, most experts interpret the calendar to mean December 21, 2012 is simply the end of a 5,200-year era for the Maya and the start of another.
If that's right, everybody can relax and make sure end of times will be the best of times.

Load more