Nigeria's Super Eagles Head Coach, Stephen Keshi, said he will not miss any player who did not make the team's provisional list for the 2013 Africa Cup of Nations (AFCON).
Keshi disclosed this on Sunday in Abuja, in reaction to the criticisms which have trailed his list of 32 invited players.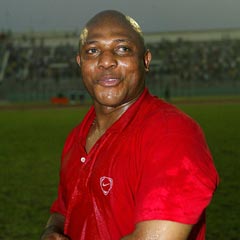 The list was for the final phase of camping in Faro, Portugal for the competition, scheduled to kick off on 19 January in South Africa.
According to Keshi, the omission of the likes of Osaze Odemwingie and Taye Taiwo was not intentional, but for the good of the country.
"We don't need Osaze right now; that is all.
"He is not a bad player and there is nothing personal about it. It is just that at this point in time, there are some players that were not called and we don't have anything against them.
"We also did not invite Obafemi Martins, why are Nigerians not talking about him?
"These players are not the only Nigerians playing; this is what we want for now.
"All we want for now from Nigerians is to support the players that are there in prayers," Keshi said.
The former Togo and Mali coach added that Martins was not in the list because he did not live up to expectation when he was given the opportunity to prove his worth in the new Eagles squad.
Keshi pointed out that he was more comfortable dealing with the players he was familiar with.
"Martins is a good player and has done so well for this country.
"However, I have some other players I have used before and I think I have confidence in them, not that I don't have confidence in Martins, but his time will come.
"He is still a young man and is still playing," Keshi said.
Aminu Maigari, the Chairman, Nigeria Football Association (NFA) told NAN that Keshi's decision on the list was final.
Maigari said that the present board of the association had vowed not to meddle with Super Eagles affairs.
"Actually the duty of the NFA board is to regulate, we don't impose players on the coaches.
"But I was able to attend part of the last segment of the technical committee meeting with the coaches themselves.
"At the meeting, I asked why Osaze was not invited and the committee said it had also asked similar question, but the coach gave his reasons and they were convinced.
"I was satisfied too, because I feel it is not my right to come and say the coach must bring back a particular player," Maigari said.
NAN reports that the Super Eagles' would depart Nigeria for Faro, Portugal on Dec. 27 for the final phase of camping for the competition.

Load more