Tunde Oyedele/sports editor
It's country versus club controversy once again and FIFA may have to wade in for arbitration as Nigeria insists that Newcastle striker Shola Ameobi must play in the Nations Cup campaign scheduled to begin 19 January in South Africa.
Yesterday, Newcastle United Coach, Alan Pardew opened the controversy when he said Ameobi would not be available for Nigerian duty, because the club needed him.
He even added that Eagles coach Stephen Keshi knew why he would hold tight to Ameobi, who helped the club secure a vital win in the English Premier League on Saturday against Queens Park Rangers
However, Super Eagles Coach, Stephen Keshi today ordered Ameobi to ignore Pardew and report at the team's Faro camp in Portugal for Nigeria's final preparation for the African Cup of Nations.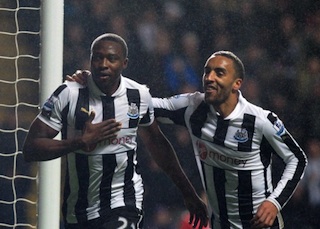 Keshi insisted that the fast attacker will be on duty for the Eagles in South Africa.
"I spoke to Shola Ameobi before I included him in our provisional list and we have been talking about his availability for the African Cup of Nations," Keshi said from Eagles' Bolton White Hotel camp in Abuja.
"Ameobi told me he wants to play for Nigeria and I have told him to report with the other foreign-based stars as scheduled on 4 January, 2013," the Nigeria coach said.
Eagles Media Officer, Ben Alaiya also spoke with P.M.NEWS on Nigeria's position about Ameobi's availability for the Nations Cup.
"The Nigeria Technical Crew heard what Pardew said about Ameobi. We know his club need him for their English Premier League matches, but Pardew knows Ameobi is also crucial to Nigeria's campaign at the African Cup of Nations," Alaiya said.
The Eagles Image Maker pointed at the FIFA rule, which mandates all clubs to release players for international tournament involving their countries.
"The FIFA rule makes it clear that our players must be released by their clubs at least 14 days to a major tournament. Pardew knows the implication of stopping Ameobi from reporting at the Nigeria camp," Alaiya noted.
Ameobi, who was cleared by FIFA to play for Nigeria this year, featured in an international friendly match against Venezuela in Miami, Florida last month.
After the match, which Nigeria won 3-1, Ameobi disclosed that he has achieved his childhood dream to play for his fatherland, and promised to play for the country anytime the nation needs his services.
Ameobi, who played for the U-20 team of England some years ago, was born in Zaria in the northern part of Nigeria.
His parents took him to England when he was just five years old.

Load more